On the way to an MTU Green Europe
Energy and climate action
We want to realign our energy management to permanently reduce our use of fossil fuels and emission of greenhouse gases in production and maintenance. More green energy and avoidance of carbon emissions are important components of our ecoRoadmap on the way to an MTU Green Europe. As the first step, we implemented net zero greenhouse gas emissions for operations at our Munich site in 2021.
---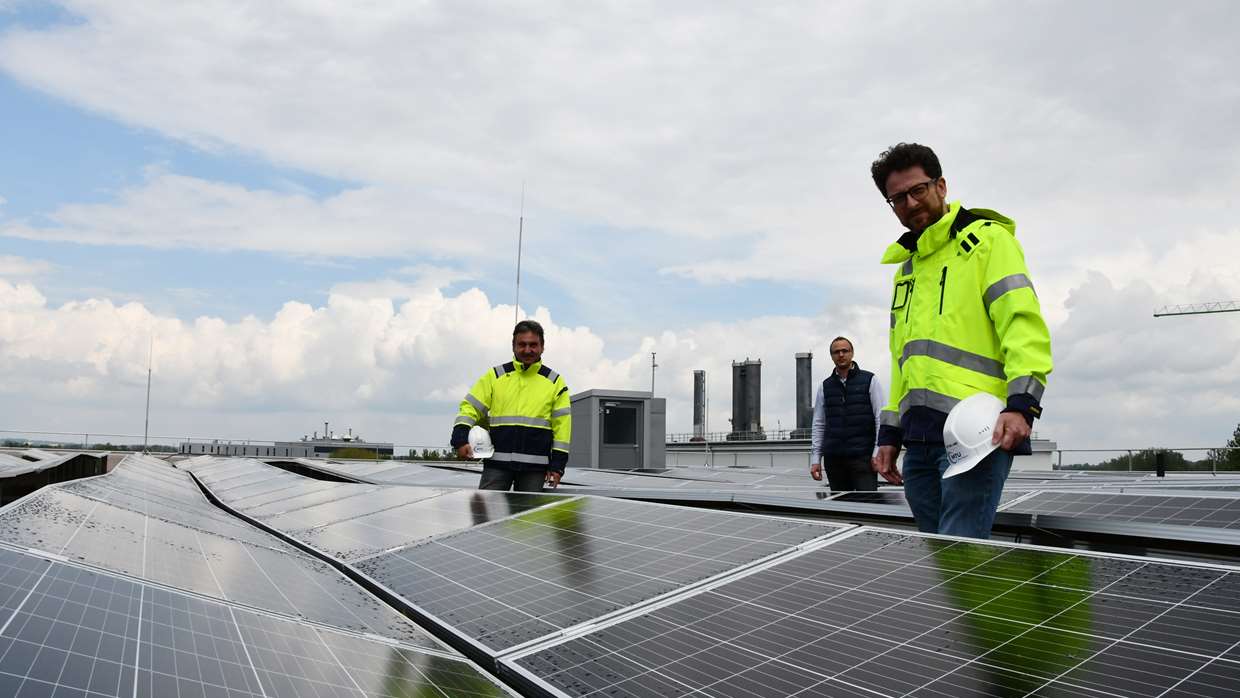 Environmental protection in production and maintenance is an important objective for MTU. The primary focus is on climate action. Environmental management is established at all production sites. For more information, see Environmental management. In introducing climate strategies for operations at our sites, MTU aligns its objectives with the Paris Agreement and launched an ecoRoadmap for the Munich headquarters during the reporting year. The other production sites in Europe will follow suit in 2022. This will mean significantly reducing the carbon footprint of the production sites by 2030 by avoiding emissions and transitioning to more green energy. This is how we want to help reach the goals of the Paris Agreement.
Energy management
We rely on a mix of renewable and non-renewable energy sources and choose energy resources based on security of supply, cost effectiveness and environmental considerations. As part of the newly launched ecoRoadmap, we are realigning our energy management and prioritizing the use of green energy in supplying our facilities.
Energy consumption in 2021
Regarding non-renewable primary energy, we use natural gas and the aviation fuel kerosene. On top of this, there are the fuels used to power vehicles used by management personnel (mobility), which make up a very small proportion of the total. In Munich, we generate electricity and heat using a cogeneration plant (BHKW). Compared to conventional power plants, cogeneration plants are much more efficient and emit less pollution. We want to use more photovoltaic energy in the future, and in 2021 we installed and commissioned our first ever photovoltaic system on the roof of the new logistics facility in Munich as part of the ecoRoadmap. It delivers up to 240,000 kilowatt-hours of self-produced green electricity every year. Planning and/or testing is underway for further systems at various locations. In addition, the Hannover site makes use of solar energy with the aid of a solar thermal power plant and also employs a cogeneration plant comprising three micro gas turbines for generating electricity and heat. We also achieve greater energy efficiency by having the sites use waste heat from compressed air generation as thermal energy (combination principle).
Energy sources used in 2021 (consumption in GWh)
GRI 302-1
Our Scope 1 energy demand (direct energy consumption) in 2021 was 182.4 gigawatt-hours (GWh), slightly above the previous year's level (176.9 GWh). Scope 1 primarily concerns the energy sources natural gas and kerosene. Natural gas is used primarily for heating, in production and, to a lesser extent, for test stand operation. Kerosene is used as a fuel for testing engines on the test stand, so consumption depends on how extensive the tests are and on engine size. MTU has no influence on the type and duration of test runs. All maintained and newly manufactured engines must complete a test run prior to delivery for safety reasons and to demonstrate their performance. As part of our digitalization strategy, we are striving to increase the use of simulations in development and manufacturing in order to reduce the amount of development testing for new engines. We are able to run our test stands in Hannover on sustainable aviation fuels (SAFs), and in 2022 we carried out initial test runs of customer engines with alternative aviation fuels at MTU Maintenance.
In 2021, we procured a total of 128.8 GWh of external energy (Scope 2)—due to capacity utilization, this was once again up on the previous year (2020: 116.0). Scope 2 energy is predominantly electricity, which accounts for 39.2% of our total energy consumption. This total is drawn from renewable sources in varying proportions. MTU Maintenance Canada gets some of its electricity from hydroelectric power stations, which are a renewable resource. As part of our ecoRoadmap, in the future we aim to successively increase the purchase of green electricity generated exclusively from renewable sources.
Overall Scope 1 and 2 energy demand was 311.2 GWh in 2021. This was 5.7% higher than the previous year's level, owing to higher capacity utilization than in the first year of the pandemic.
Green electricity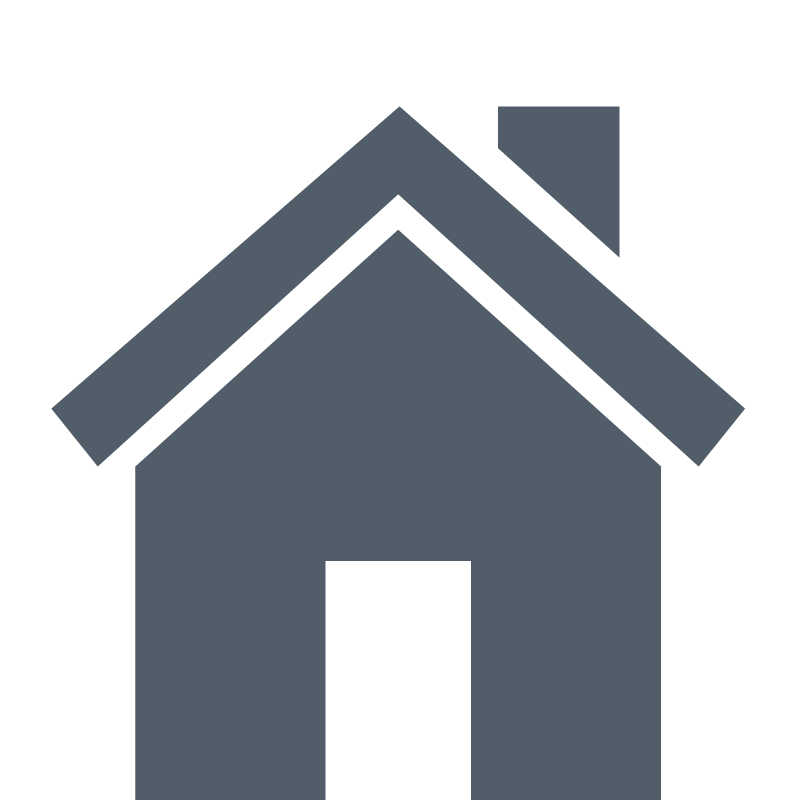 four-person households consume roughly the same amount of electricity every year as we generate ourselves annually with the new photovoltaic system at our Munich site. Further systems are at the planning stage.
Energy supply, production, Scope 1 and 2 (in GWh) GRI 302-1

 

2021

2020

2019

Total

311.2

294.6

294.9

Direct energy consumption, natural gas, kerosene, mobility = Scope 1

182.4

178.6

164.9

Indirect energy consumption, electricity, district heating = Scope 2

128.8

116.0

130.0
Introduction of a climate strategy at the Munich site
MTU aims to continuously reduce the greenhouse gas emissions resulting from manufacturing and maintenance work at its facilities as a contribution to global climate action in line with the objectives of the Paris Agreement.
We continuously assess greenhouse gas emissions according to the recognized international Greenhouse Gas (GHG) Protocol. Of all the greenhouse gases that the Kyoto Protocol lists as having an impact on the climate only the carbon emissions are relevant for operations at MTU sites. Our carbon footprint is made up of direct greenhouse gas emissions (Scope 1) and indirect greenhouse gas emissions (Scope 2). Scope 1 refers to direct emissions of climate-damaging gases within a company itself. They are produced in MTU's own ambit, such as during production or by the company's fleet of vehicles. Scope 2 refers to indirect emissions generated by energy suppliers. They arise when MTU purchases energy such as electricity. Scope 3 includes upstream and downstream carbon emissions as generated, for example, by suppliers or arising from business trips and transports in the external logistics chain. The emissions arising from the use of our products also fall under Scope 3. More about climate action in product usage
At our Munich headquarters, we launched the implementation of a climate strategy in 2021, which is designed to reduce our carbon footprint (Scope 1 and 2) through measures aimed at energy efficiency, producing our own green energy and buying in green electricity. Unavoidable emissions are compensated by means of high-quality offsets. By 2030 we want to reduce carbon emissions by 60% compared to the base year of 2019. In 2022, MTU began extending the ecoRoadmap to include the rest of Europe. Targets for CO2 reductions will be set at the site level.
Reduction in CO2 by 2030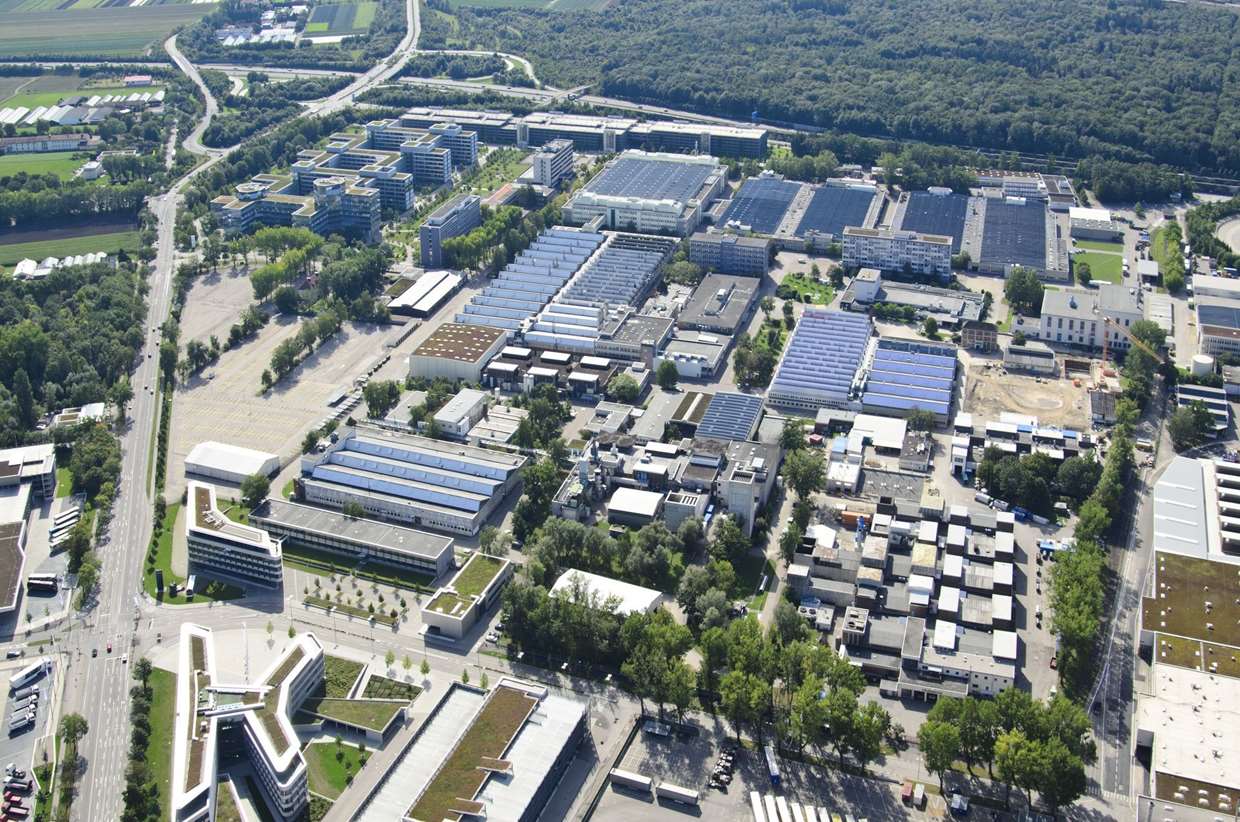 With the ecoRoadmap, MTU is pursuing an ambitious target for its Munich headquarters (base year: 2019). The largest site in the MTU network accounts for 57.2% of the total energy usage (2021).
In addition to the commissioning of a photovoltaic system for generating the site's own electricity, the purchasing of green energy has also been expanded in Munich as part of the ecoRoadmap. On top of this, we have launched initiatives to get employees involved in identifying potential savings (company suggestion scheme and eco-ideation challenge.) Environmental programs are being implemented at other MTU locations. The Hannover site has agreed on measures to be implemented by 2022, primarily to reduce gas and electricity consumption in machinery and building management. Renewable energy as a proportion of total electricity purchased was increased at the Hannover and Munich sites. The Polish site in Rzeszów continued the Eco Facility 2025 project for reducing environmental impacts and promoting environmentally conscious behavior.
---
Three steps to carbon neutrality at the Munich site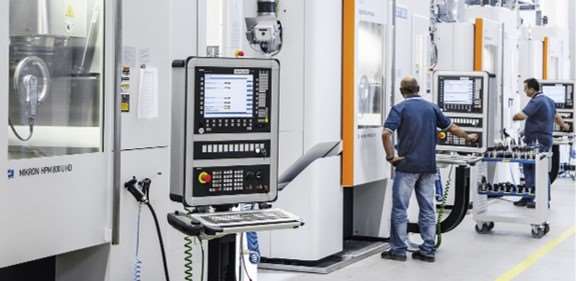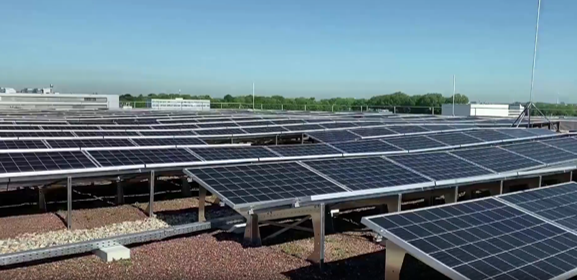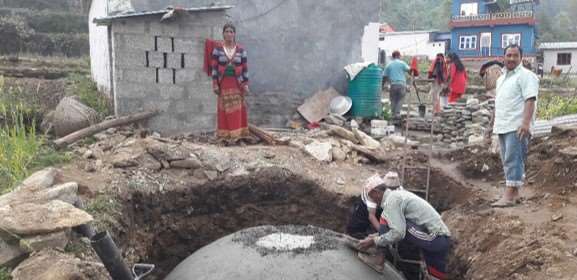 AVOID
Target for 2030 for operations at our sites:
Annual increase in energy efficiency of 2%
TRANSITION
Transition to using more green energy through:
MTU-initiated and -produced energy (e.g. geothermal, PV systems)
Increasing proportion of renewable energy from energy providers
OFFSET
Remaining unavoidable emissions will be compensated by means of selected high-quality offsets
---
Our carbon footprint for 2021
In the reporting year, MTU generated 51,300 metric tons of CO2e emissions at its production sites (2020: 74,800). Scope 1 emissions amounted to 39,900 metric tons of CO2e for the MTU Group and were therefore at the same level as the previous year, while Scope 2 emissions amounted to 11,400 metric tons of CO2e (2020: 35,700). The reduction in Scope 2 emissions can be attributed to higher procurement of green electricity at the Hannover, Munich and Rzeszów sites. Thanks to the measures from the ecoRoadmap, CO2e emissions at the Munich location amounted to 27,300 metric tons, a total that is considerably lower than the previous year's (2020: 40,700). This is due primarily to the reduction of Scope 2 emissions to 5,900 metric tons. Scope 1 emissions were 21,400 metric tons, roughly the same as in the previous year. MTU compensated the remaining Scope 1 and 2 CO2e emissions for operations at Munich by means of high-quality offsets, such that this site achieved net-zero status in 2021 for the first time.
CO 2 emissions (in t CO 2 equivalents) Scope 1 and 2 GRI 305-1, 305-2

 

2020

2020

2019

Total

51,300

74,800

73,900

Scope 1

39,900

39,100

33,100

Scope 2

11,400

35,700

40,800
CO2 reduction as important ESG goal
Due to the high priority of climate action at MTU, the reduction of carbon emissions is an important environmental, social and governance (ESG) goal. In IMS reporting to the Executive Board in 2021, carbon emissions (Scope 1 & 2) from site operations were reported in relation to production hours for manufacturing sites or in relation to hours worked for maintenance sites. The "CO2 emissions related to production hours" indicator for the Munich site was incorporated into the variable compensation of the Executive Board as an ESG-relevant KPI for the first time in the 2021 financial year. Goal attainment is measured here by reduction compared to the base year 2019 (28.9 kilograms per production hour). The target was an overall reduction of 6%, of which 5% was to come from the purchase of renewable energy and 1% from sustainability measures in site operations, such as increasing energy efficiency or self-generated renewable energy. As the year 2021, unlike the base year, was affected by the coronavirus pandemic, MTU compensated for specific pandemic-related effects (e.g. lower capacity utilization and coronavirus protection measures such as energy-intensive shop floor ventilation) by purchasing green electricity. The reduction in carbon emissions through the purchase of green energy was 8.6%, exceeding the target of 5%. In comparison, through measures designed to deliver a lasting reduction in carbon emissions, we achieved a reduction of 1.8%, also exceeding the target of 1%. Overall, carbon emissions for the period from 12/2020 to 11/2021 were 26.4 kilograms per production hour.
---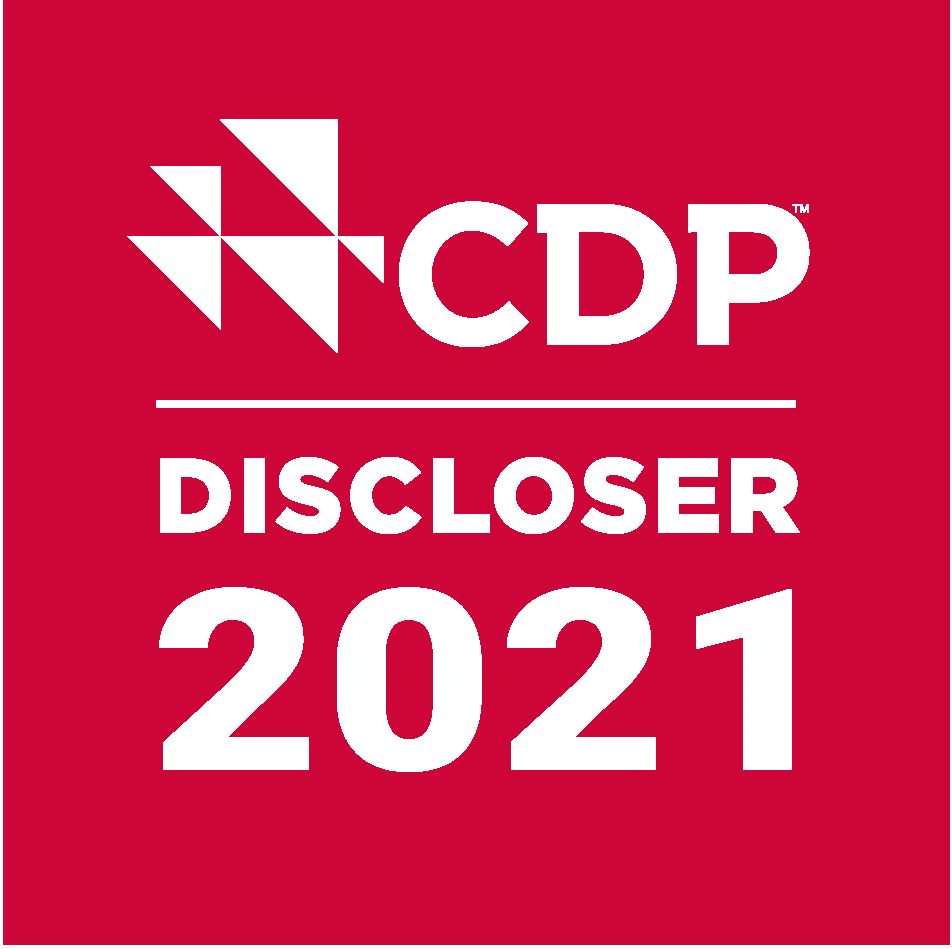 To make our company's environmental impact still more transparent, we take part in the annual assessment by the international non-profit organization CDP, which collects data on companies' greenhouse gas emissions, climate risks and climate strategies on an annual basis. For 2021, we achieved a rating of B- on a scale from D- to A+.
---
Logistics and employee mobility
We also extend our climate action efforts to cover our transport and logistics chain. Measures include optimizing routes for transport within facilities and using vehicles with better environmental performance or electric motors to reduce fleet consumption. In addition, we promote sustainable ways of working for our employees.
Fleet and company cars: In Germany, we have a total of 19 all-electric and 40 plug-in hybrid vehicles in use, representing 32% of the whole fleet. We expect to be able to increase this proportion to around 40% in 2022. A further increase is currently dependent on delivery conditions. In addition, we significantly increased our charging capacity in 2021. To date, we have installed 20 regular charging stations, including eight in employee parking lots. We are planning to further expand charging capacity as demand grows.
Job tickets: We promote sustainable commuting practices among our workforce, through a special discounted "job ticket" for the local public transportation network or web portals for carpooling.
Emissions from the transport and logistics chain (excluding company vehicles) fall under Scope 3, for which we do not have complete data. The amount of CO2e emissions caused by business trips (travel by aircraft, train or rental car) in 2021 totaled 1,134 metric tons due to ongoing heavy restrictions on business travel.
CO 2 emissions (in t CO 2 equivalents) Scope 3 GRI 305-3

 

2021

2020

2019

Business Travel

1,130

1,970

6,880
Further airborne emissions
The energy sources we use generate other airborne emissions aside from carbon emissions. The use of kerosene, natural gas, electricity and district heating from fossil fuels causes the emission of carbon monoxide, nitrogen oxides, sulfur dioxide and dust. We aim to reduce these emissions as well. Generation of electricity and heat in the new cogeneration plant at our Munich site, which went into operation in 2018, cuts emissions of nitrogen oxides by 80% and of carbon monoxide by 66% compared to its predecessor. These MTU non-CO2 airborne emissions are caused primarily by the use of kerosene for test runs and by the purchase of electricity.
Airborne emissions (in metric tons) Scope 1 and 2 GRI 305-7

 

2021

2020

2019

Total

177

238

266

Carbon monoxide (CO)

18

41

42

Nitrogen oxide (NO X listed as NO 2 )

141

162

184

Sulfur dioxide (SO X listed as SO 2 )

16

31

36

Particulates (dust)

2

4

4
By conducting our energy management and climate action activities, we can help achieve the following Sustainable Development Goals:
Industry, innovation and infrastructure
Climate action
→ Learn more about our contribution to the SDGs of the UN's 2030 Agenda
---
Services & tools
---