UN 2030 Agenda
Sustainable Development Goals
At a United Nations summit held in September 2015, the international community of states adopted the 2030 Agenda for Sustainable Development. Thus making it clear that the current global challenges can be effectively addressed in a joint effort only. The agenda aims to make sure that economic progress goes hand in hand with social justice and ecological responsibility. Industry is also called upon to do its part. MTU meets this responsibility.
---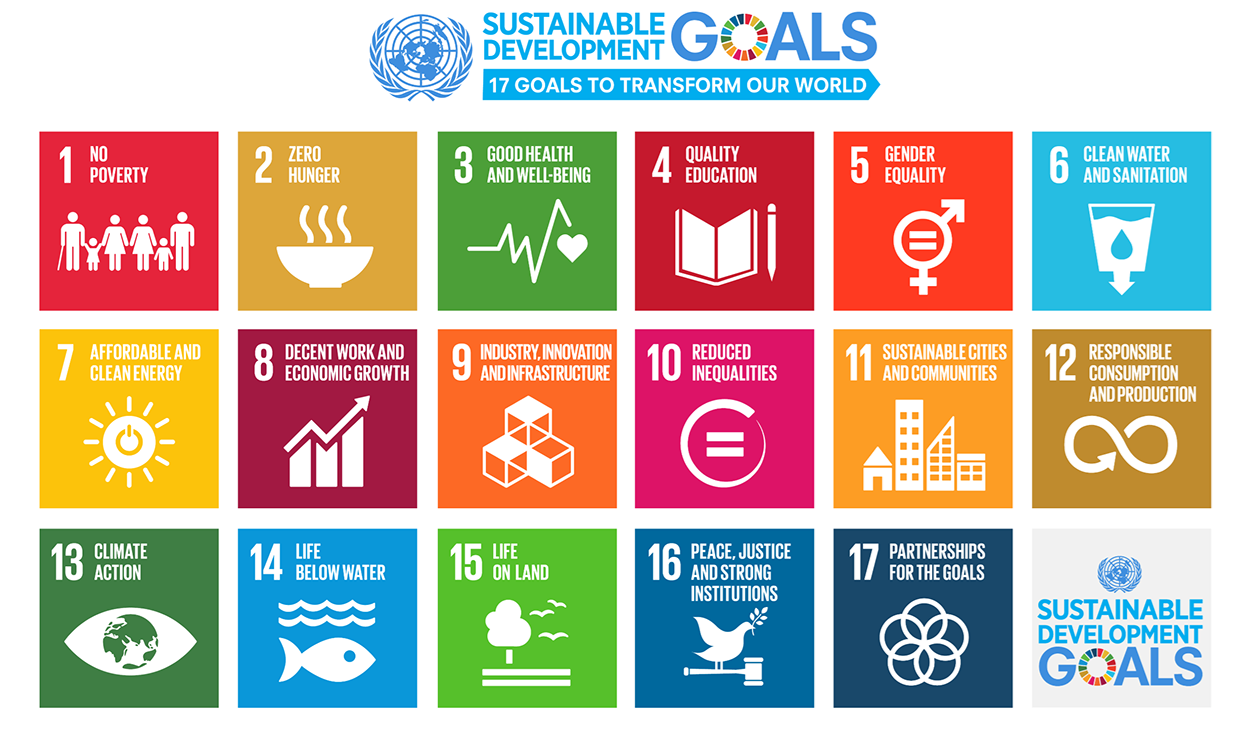 We are committed to the Sustainable Development
Goals and can help achieve eight goals in particular
At the core of the 2030 Agenda are 17 goals for sustainable development, or SDGs for short. These goals embrace the three dimensions of sustainability—economy, environment and society. We support the implementation of the SDGs and have identified eight goals to which we can directly contribute and that are therefore relevant for MTU:
Quality education
Gender equality
Decent work and economic growth
Industry, innovation and infrastructure
Responsible consumption and production
Climate action
Peace, justice and strong institutions
Partnerships for the goals
SDG 4: Quality education
Quality education
Offering good educational opportunities: MTU is committed to high-quality education and training, both at its various locations and within the framework of partnerships in the area of education. We support centers of competence in the aviation sector jointly set up with universities and research institutions, because our industry is in particular need of highly qualified and well trained employees. We offer all employees at our company locations a wide range of training and continued training programs to ensure a high level of education in the regions. By providing dual-track training for young people, we lay an important foundation for their future professional success. More information about our commitment to education under → Employee development and → Corporate social responsibility
This is how we contributed to the SDG in 2021:
EUR 4.2 million invested in training for the qualification of our employees

2.0 training days per employee

349 apprentices, making up 3.3% of MTU's workforce

Apprenticeship established based on Germany's dual-track system at the new site in Serbia
---
SDG 5: Gender equality
Gender equality
Promoting diversity and inclusion: MTU advocates diversity and equality of opportunity. Diversity is part of our human resources strategy. An important focus here is on the promotion of women, which is also anchored in the company's corporate objectives. What we consider particularly important is to promote female talent to get more women into management positions. In addition, we offer a variety of work taster and job entry opportunities for girls and women to encourage them to pursue technical professions. More information about our commitment to diversity under → Diversity and inclusion
This is how we contributed to the SDG in 2021:
15.6% female employees at MTU (proportion higher than in previous years)

20.5% of new hires were women (above the current share of women in the workforce)
---
SDG 8: Decent work and economic growth
Decent work and economic growth
Maintaining fair working conditions: Decent working conditions are a top priority at MTU. We do not tolerate forced or child labor and maintain high occupational health and safety standards in compliance with the applicable national regulations, which we consider to constitute the minimum requirements. Moreover, we offer our employees additional services at our locations under our company health management scheme. The principles of our social responsibility have been laid down in our Code of Conduct. In addition, a Supplier Code of Conduct has been developed that governs cooperation with our supplier base. More information under → Occupational safety & health protection → Human rights → Supplier management
This is how we contributed to the SDG in 2021:
3 accidents per 1,000 employees (well below industry average)

Health rate of 94.9% (Germany)

No incidents or substantiated complaints regarding discrimination at MTU

No reports of suppliers violating the Code of Conduct regarding human rights
---
SDG 9: Industry, innovation and infrastructure
Industry, innovation and infrastructure
Advancing sustainable aviation: MTU makes major contributions to industry, innovation and infrastructure beyond national boundaries. Aviation connects countries and continents the world over. Through the continuous development of ever better technologies, we help conserve resources and substantially improve the eco-efficiency of aircraft engines. We want to achieve the goal of virtually emissions-free flight by way of completely new propulsion concepts. We operate a global network of facilities, in particular with our joint venture partners, to be close to and optimally serve our customers worldwide. Thus, we improve the infrastructure in the respective countries and support sustainable industrialization. More information about our commitment to climate action and environmental protection under → Product stewardship and → Production & maintenance
This is how we contributed to the SDG in 2021:
EUR 230.0 million invested in research and development

Installation of MTU's first photovoltaic system
---
SDG 12: Responsible consumption and production
Responsible consumption and production
Comprehensive climate action and environmental protection: MTU stands for sustainable production and aims to maximize the eco-efficiency of its products. In the manufacture of our products, sustainability is our basic principle. In our maintenance shops, we rather repair parts than replace them with new ones. This saves on materials and conserves resources. With our environmental management system, we pursue an integrative approach, assessing the effects of our production processes and products already in our corporate decision-making. In product development, eco-efficiency is our primary aim. More on environmental protection and climate action in the chapters → Product stewardship and → Production & maintenance.

This is how we contributed to the SDG in 2021:
EUR 10.6 million invested in environmental protection at the site

6.8% of direct energy demand covered by renewable energy (Scope 1)

78.1% recycling rate for waste

19.7% renewable materials
---
SDG 13: Climate action
Climate action
Wide variety of climate action activities: MTU's product development efforts are aimed at reducing the climate impact of aircraft engines and ultimately achieving emissions-free flight. Its most significant contribution toward climate action is through sustainable engine technologies. Our work on new propulsion concepts such as the hydrogen-powered fuel cell and our commitment to the use of alternative fuels contribute to this. Climate action is another top priority at all of our locations: we have put efficient heat recovery systems in place, use renewable energy sources and are looking into more sustainable in-house transportation options. In addition, we support regional climate action initiatives. More on this in the chapters → Product stewardship and → Production & maintenance
This is how we contributed to the SDG in 2021:
31.4% reduction in CO2 emissions year over year (Scope 1 and 2) in production & maintenance
over 6 million metric tons less CO2 since the introduction of our geared turbofan engine in flight operations (as of Q4 2021)
---
SDG 16: Peace, justice and strong institutions
Peace, justice and strong institutions
Good corporate governance: Through a well-founded compliance system in conjunction with a zero-tolerance approach, MTU actively fights corruption and bribery. Compliance with statutory provisions and internal regulations is an essential part of our corporate responsibility. In particular, we foster responsible international trade. With our Code of Conduct for Suppliers we make sure that our suppliers also abide by our high business ethics standards. More information about our approach under → Compliance

This is how we contributed to the SDG in 2021:
Once again no incidents or suspicions of corruption at MTU
---
SDG 17: Partnerships for the goals
Partnerships for the goals
Successful collaborations: MTU is convinced that the challenges the international community of states is currently facing can be addressed in partnerships only. This is why we rely on close cooperation with our joint venture and business partners. When it comes to the development of young talent, we also collaborate with providers of education and research establishments. At our locations, we have entered into education partnerships to further develop the expertise and skills of our local workforce. Participation in various research collaborations and technology networks are of tremendous importance for us to achieve our ambitious targets for sustainable air transport. More information about our climate action activities under → Climate impact of aircraft engines and on our educational collaborations under → Corporate social responsibility
This is how we contributed to the SDG in 2021:
Network of around 100 research partners

Participation in numerous educational initiatives for young talent
---
More information about:
Sustainable Development Goals
---
Services and tools
---