Uniformly high standards
Environmental management
Environmental protection is a maxim guiding how we do business. At all MTU sites around the globe, we aim to be efficient in our use of energy and resources, limit our emissions and avoid environmental risks. We strive for continuous improvement in all these areas, but especially with regard to reducing energy consumption and carbon emissions.
---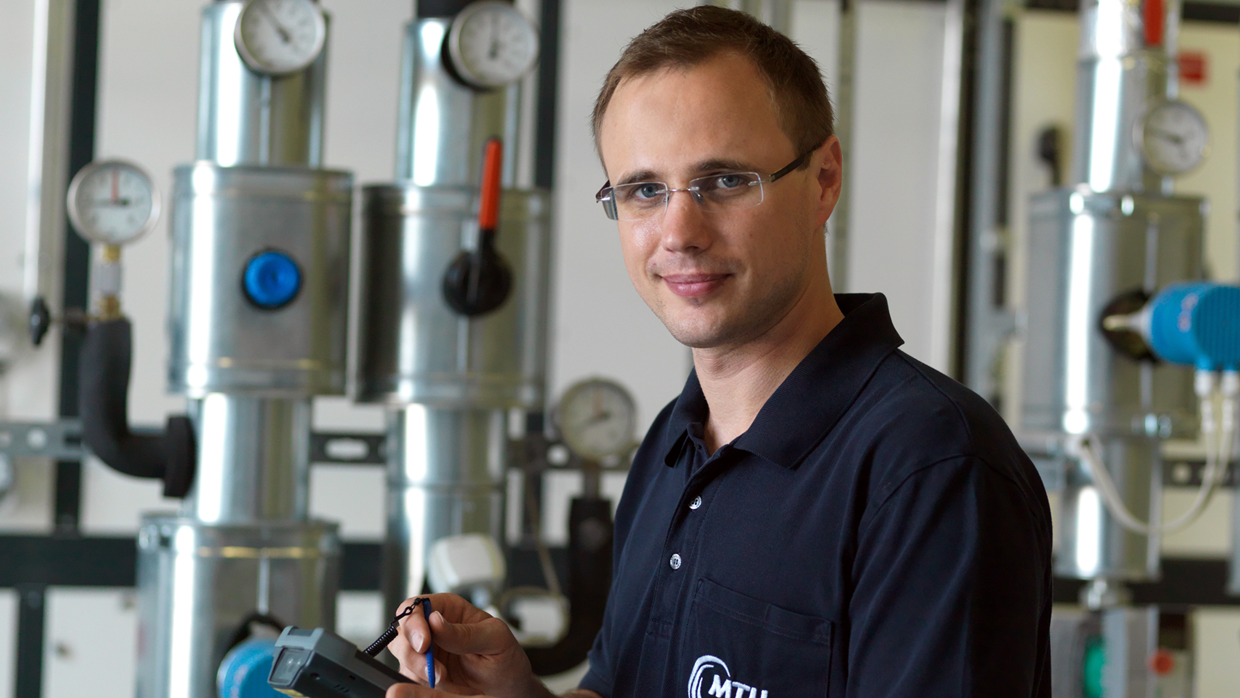 Operational environmental protection at our production sites is an important principle guiding our behavior and is implemented in MTU's business processes. It is also enshrined in the global Code of Conduct for all employees. The Executive Board assumes responsibility for company-wide environmental protection and climate action.
Uniform high standards are applied through an environmental management system that defines processes, responsibilities and targets at the site level. Environmental protection is part of MTU's integrated management system (IMS). The environmental criteria apply to all divisions and processes and are laid down in documented process flows and special company standards. Minimum operating standards for our machines and facilities, such as engine test cells, are laid down by national legislation and subordinate regulations. For machines and facilities with environmental implications, internal rules and regulations are supplemented by approval from the relevant authorities. Regular and occasional measurements, tests and inspections ensure that our machines and facilities are operating in accordance with these rules and regulations.
In our global Code of Conduct, MTU commits to an integrated approach that incorporates environmental protection and climate action into its business decisions. Environmental responsibility is also enshrined in the MTU Principles in the section entitled "Environment and society."
Integrated environmental protection covers:
Making continuous improvements

Precautionary principle

Involving employees

Limiting environmental impact

Carefully complying with statutory limits and requirements

Using resources and energy sparingly
Environmental management is not centralized, with the environmental departments at all production sites assuming responsibility for the local implementation of relevant rules and regulations. Individual site managers are directly responsible for environmental protection; they receive advice and support from the local environmental departments. The environmental departments regularly share their innovations and best practices with each other. The German sites are certified to ISO 14001, the international standard for environmental management systems, and/or to the EU Eco-Management and Audit Scheme (EMAS). In terms of energy use (Scope 1 and 2), this means that 89.3% of business activities at our production sites is certified to a recognized external standard.
We strive to constantly develop and refine our operational environmental protection measures. Independent external auditors and environmental consultants conduct regular reviews as part of the certification process to verify our implementation of and adherence to the applicable environmental protection management requirements, and provide recommendations for improvement. Internal inspections and audits supplement this monitoring and help ensure that the operational environmental protection requirements are being observed. Through regular management reviews, the management at the sites checks and controls the implementation and effectiveness of environmental management. In this way, it also influences the further development of this area. In addition, through IMS reporting, the Executive Board receives a quarterly report on carbon emissions for the production sites in Munich, Hannover, Ludwigsfelde, Rzeszów and Vancouver.
Involving employees in climate action and environmental protection
We get our employees involved in active environmental protection via information campaigns and training courses—for example, as part of initial instruction for new employees, through the company suggestion scheme, or through initiatives to conserve resources and energy and reduce emissions. Moreover, raising the awareness of all employees in production and administration is part of our Code of Conduct regarding environmental protection. The Zero mission in Munich was launched to reduce resource consumption and emissions and to promote environmentally conscious behavior among employees. In the reporting year, Zero mission activities were linked to the ecoRoadmap.
We maintain a dialogue with our stakeholder groups about MTU's environmental impacts. Stakeholders can use the available media channels to direct complaints and report abuses to us, which we will immediately follow up. This applies to employees, suppliers, residents and other stakeholders. In the reporting year, we received no complaints regarding negative environmental impacts. At the German sites, environmental officers are available to answer any questions or receive comments. → More information about stakeholder dialogue Through environmental statements, the MTU sites in Munich, Hannover and Ludwigsfelde inform the public annually about their environmental impacts and performance. In addition, stakeholders can provide feedback about sustainability issues via an online survey.
We also pursue environmental protection and climate action through joint initiatives. Besides its commitment to the UN Global Compact, whose ten principles include environmental sustainability, MTU is also involved in several local initiatives. These include the BEEN-i Bavarian Energy Efficiency Network Initiative, the Munich Business Climate Pact and the Bavarian Environmental and Climate Pact.
Green investment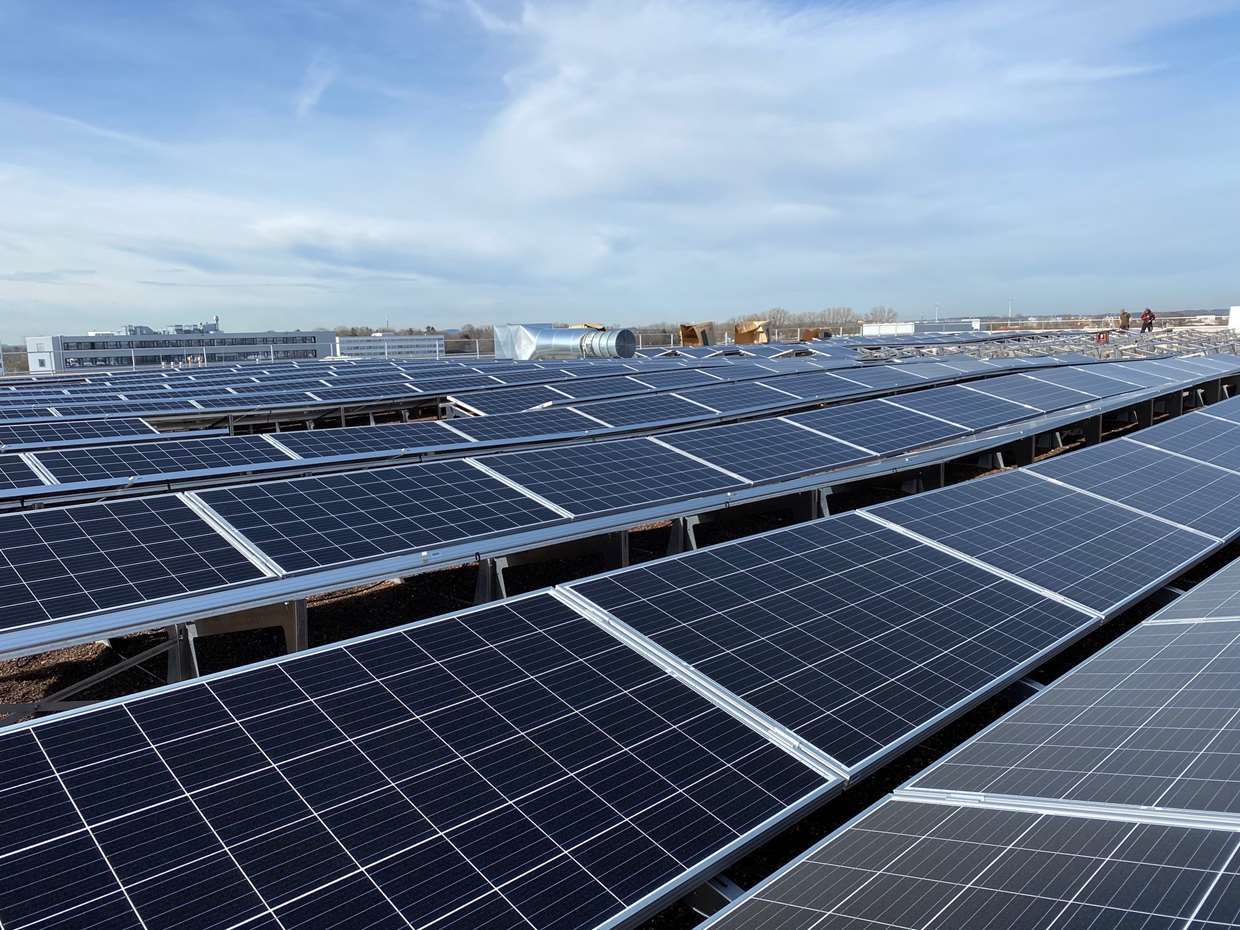 million euros—that is how much we spent on investments and ongoing expenses for environmental protection and climate action at our production sites in 2021. A first photovoltaic system has gone online at our Munich facility.
At our sites, we implement local environmental programs with various objectives, primarily to reduce energy consumption and emissions (for more information, see Conservation of resources and Energy and climate action). We use various measures to achieve improvements in our environmental performance. In the reporting year, we spent some EUR 10.6 million in total on investments and ongoing expenses in a bid to increase our environmental compatibility. The money went into measures such as wastewater treatment, safe waste disposal, climate action and air pollution control. At our Munich location, we commissioned the first ever photovoltaic system at MTU.
Emergency management plans have been prepared to deal with operational disruptions with a negative environmental impact, and a crisis committee has been set up. We also hold regular staff drills and provide instructions on what to do in the event of an emergency. In the reporting year, for example, evacuation exercises were carried out at the MTU locations in Munich and Rzeszów. Moreover, MTU has comprehensive fire protection measures in place that comply with legal directives.
In 2021 as in previous years, there were no incidents at the production sites with a negative environmental impact, nor were any fines levied against the company for breaches of statutory requirements relating to the environment. No non-monetary sanctions were brought against MTU.
However, a fire broke out in the electroplating works at our Munich facility in September 2021, which was caused by chemical reactions when preparing a new solution in a plating tank. The fire was quickly extinguished by the site's internal fire service. Investigations conducted by Munich's professional fire service in the immediate aftermath of the fire did not identify any negative environmental impacts. We promptly notified the proper authorities and have been in continuous dialogue with representatives from the authorities ever since.
Root cause analysis was carried out by the Work Safety and Environmental Protection department with the participation of other departments. A project has been launched to systematically analyze the damage event and derive suitable measures including lessons learned. In coordination with the City of Munich's Department for Climate and Environmental Protection (RKU), surveyors were commissioned to evaluate the measures already taken and the existing processes and systems, and to improve them if necessary.
---
All fully consolidated production sites of the MTU Group worldwide (Munich, Hannover, Ludwigsfelde, Rzeszów and Vancouver) are included in our environmental reporting for this Sustainability Report. The Serbia site is currently being constructed, with operations of the new repair shop in the MTU network due to begin around the end of 2022. By comparison, smaller sites are not relevant for our environmental impact and are therefore not included.
By practicing environmental management, we can help achieve the following Sustainable Development Goals:
Industry, innovation and infrastructure
Responsible consumption and production
Climate action
→ Learn more about our contribution to the SDGs of the UN's 2030 Agenda
---
Services & tools
---