Environmental protection in production
Conservation of resources
When producing engine modules or engines in our plants, or when maintaining them in our maintenance shops, we aim to conserve resources as far as possible. Our energy- and resource-efficient processes contribute to resource conservation.
---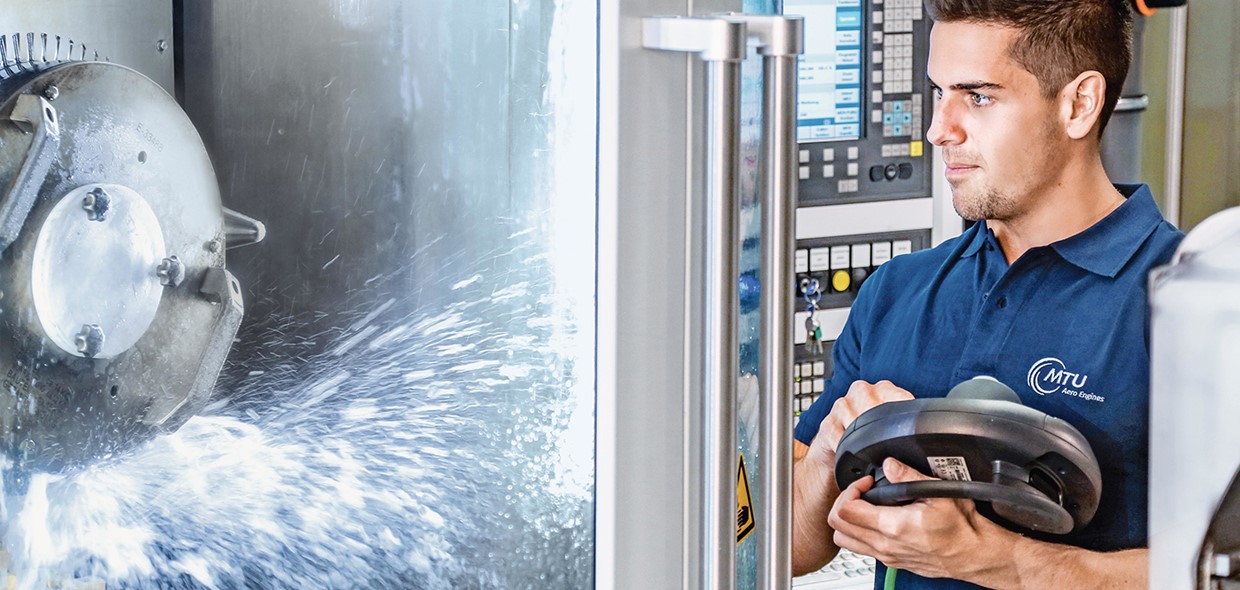 With the help of our environmental management system, we aim to advance our resource-conserving production processes, and gradually improve energy efficiency in the manufacture of our products and in the maintenance of engines and modules. Our goal is highly efficient production and maintenance with minimal use of resources. We use raw materials, water and energy sparingly. This is set out as a guideline for all employees in our Code of Conduct and our MTU Principles. Conserving resources is also a way for us to reduce our production costs. The use of resources depends on batch sizes in production and maintenance. We are currently in the process of ramping up production at all sites, so reducing resource and energy consumption is a particular challenge for us.
Our contribution to the SDGs
In making our process as resource-conserving as possible, we support two Sustainable Development Goals (SDGs) of the UN's 2030 Agenda: SDG 9 on "Industry, innovation and infrastructure" and SDG 12 on "Responsible consumption and production." A secondary objective of SDG 9 calls for sustainable industry with more efficient use of resources and increased use of environmentally friendly technologies and industrial processes. Our sustainable waste management system at our production sites contributes in particular to SDG 12, which explicitly calls for a significant reduction in global waste generation by 2030.
Industry, innovation and infrastructure
Responsible consumption and production
→ Learn more about our contribution to the Sustainable Development Goals (SDGs)
Energy
MTU relies on a mix of renewable and non-renewable energy sources and chooses energy resources based on security of supply, cost effectiveness and environmental sustainability. As non-renewable primary energy, we use natural gas, the aviation fuel kerosene, diesel and a very small amount of heating oil (<0.2%). In Munich, we generate energy using a cogeneration plant (BHKW), which we have comprehensively modernized and has operated using biomethane since spring 2018 (previously using certified palm oil). Compared to conventional power plants, cogeneration plants are much more efficient and emit less pollution. The Hannover site makes use of solar energy with the aid of a solar thermal power plant. We also achieve greater energy efficiency through having the sites use waste heat from compressed air generation as thermal energy (combination principle).

In the reporting year, we invested some EUR 3.9 million in energy-saving measures. The main driver of these measures was a shop renovation in Hannover.
Energy sources used in 2018,
Scope 1 and 2 (consumption in MWh; share in %)
GRI 302-1

Measures for energy-efficient production/maintenance
Well water for cooling purposes

District heating network modernization

Improvements to thermal insulation

Building automation systems

Heat recovery systems

Renewable energy

Energy-efficient compressed air supply

Energy-efficient lighting systems

Waste heat from compressed air generation

Electric transport in the plants

Machine shutdowns during disruptions of production to reduce the base load
Our energy consumption
Our Scope 1 energy requirement totaled 143,700 megawatt hours (MWh) for 2018. Compared to the previous year (2017: 149,100 MWh), we were able to reduce energy consumption slightly (3.6%)—despite ramping up production at our sites. Scope 1 primarily concerns the energy sources natural gas and kerosene. Kerosene is used as a fuel for testing engines on the test stand, so consumption depends on how extensive the tests are and on engine size. MTU has no influence on the type and duration of test runs. Our digitalization campaign is making strides toward increasing the use of simulations in development and manufacturing in order to reduce the amount of development testing for new engines. This is an important contributor to resource conservation. All newly maintained or manufactured engines must complete a test run prior to delivery for safety reasons and to demonstrate their performance.
In 2018, we procured a total of 137,200 MWh of external energy (Scope 2), which is 4.3% more than in the previous year (2017: 131,600 MWh). Purchased energy is mainly electricity (93.7% of the total energy in Scope 2). Our use of green electricity is determined by the extent to which our chosen suppliers feed it into the grid. MTU Maintenance Canada gets all its electricity from hydroelectric power stations and therefore 100% from renewable resources.

Energy supply, production, Scope 1 and 2 (in MWh) GRI 302-1

2018

2017

2016

Total

280,900

280,700

299,200

Fossil fuels (natural gas, diesel, kerosene) Scope 1

143,700

149,100

161,600

Non-fossil fuels (vegetable oil) Scope 1

0

0

8,300

Electricity, district heating (external) Scope 2

137,200

131,600

129,300
The total energy requirement for Scope 1 and 2 was 280,900 MWh in 2018, which was almost exactly the same as in the previous year (2017: 280,800 MWh). We apply systematic energy management primarily to manage our consumption of our main energy sources, electricity and natural gas (75.3% of energy in 2018), and to implement improvements.
Our progress in energy management in 2018
Further energy-efficiency improvements made to buildings during construction and refurbishment, Munich

Further expanding machine cooling, Munich

LED lighting, several production sites


Changing the chiller (free cooling) in work scheduling, Rzeszów

Switching UV lighting in parts inspection areas from mercury vapor to LED, Ludwigsfelde


Renovating the roof to increase heating efficiency, Hannover

Reducing compressed air leaks, all sites

Replacing a boiler with a micro gas turbine, Hannover
Water
Water is a valuable resource that we use sparingly. We have effective water management systems in place at all production sites. Our water consumption also fluctuates depending on production volumes. In keeping with the precautionary principle, we treat wastewater properly and in accordance with the applicable legal requirements. We spent some EUR 2 million on water protection in 2018. The Zero mission we launched at our Munich site also aims to decrease water consumption overall (absolute reduction) or, when production increases, to keep the increase in water consumption at a lower rate (relative reduction). Our fully consolidated production sites are in Europe and Canada, so they are not located in water-stressed regions, which are regions in which water is a scarce resource.


Our water consumption
We use drinking water for production and maintenance processes, in sanitary facilities and in the cafeteria. In addition, we use well water for cooling processes. We record water consumption locally as an absolute value. This amounted to a total of 7.4 million cubic meters for all production sites (2017: 6.9 million m3). The higher consumption figure is due to more groundwater at the Munich site, where MTU uses Quaternary groundwater from its own wells, and to increased drinking water consumption. Water consumption was 97.5% groundwater and only 2.5% drinking water. We use recirculated water as much as possible in chemical process baths for applying protective coatings to blades and also for the process water in installations for testing component damage. Thanks to this recirculation, we have to treat only a small amount of wastewater before discharging it into the municipal sewers. This enabled us to save around 600,000 m3 of water in the reporting year. Our sustainable water management also includes systematic inspection and renovation of the well water and sewer canal networks.
Water balance (in m3) GRI GRI 303-1, 306-1

2018

2017

2016

Total

7,444,000

6,915,000

7,078,000

Intake

Potable water

186,000

173,000

153,000

Groundwater

7,258,000

6,742,000

6,925,000

Total

8,049,000

7,174,000

7,371,000

Discharge

Sewer system

140,000

132,000

145,000

Surface water

1,519,000

1,179,000

1,096,000

Groundwater

6,390,000

5,863,000

6,130,000
Water quality
MTU treats wastewater in suitable sewage systems according to the type and extent of pollution. The quality of the discharged wastewater complies with the official requirements issued for the respective sites. Strict monitoring at the sites ensures that legal limits are observed. We comply 100% with all local authority requirements. Neither water sources nor water surfaces are negatively impacted or polluted by our operating activities. This also applies to our site in Canada, which is located directly on Sea Island in the Fraser River estuary in Richmond, British Columbia. The surrounding nature conservation areas are crucial for salmon migration and the Pacific route of migratory birds.
Material and waste
The long service life of our products and the continuous improvement of our maintenance processes reduce our demand for raw materials. As a rule, aircraft engines spend 30 years in service before they are decommissioned. In all of our production methods, we pay attention to efficiency in the use of materials and seek to avoid waste. MTU develops its own production and repair methods that are characterized by their high material efficiency. With its "repair beats replacement" philosophy, MTU Maintenance achieves a truly impressive depth in aircraft engine repair. Using special techniques the company has developed in-house, we repair engine components that in other maintenance shops would have to be replaced with new parts. For example, we manage to give around 70% of all engine blades a second, third or even fourth lease on life. We are gradually expanding this product recycling approach to include new processes with an eye to achieving even longer service lives and thus greater material efficiency. For instance, in the case of life-limited parts, we have succeeded in repairing integrally manufactured engine blades and disks, known as "blisks." This is important because the number of blisks being installed in engines is increasing. We are one of the world's leading companies in the field of blisk production and repair. → Sustainability over the entire lifecycle of an engine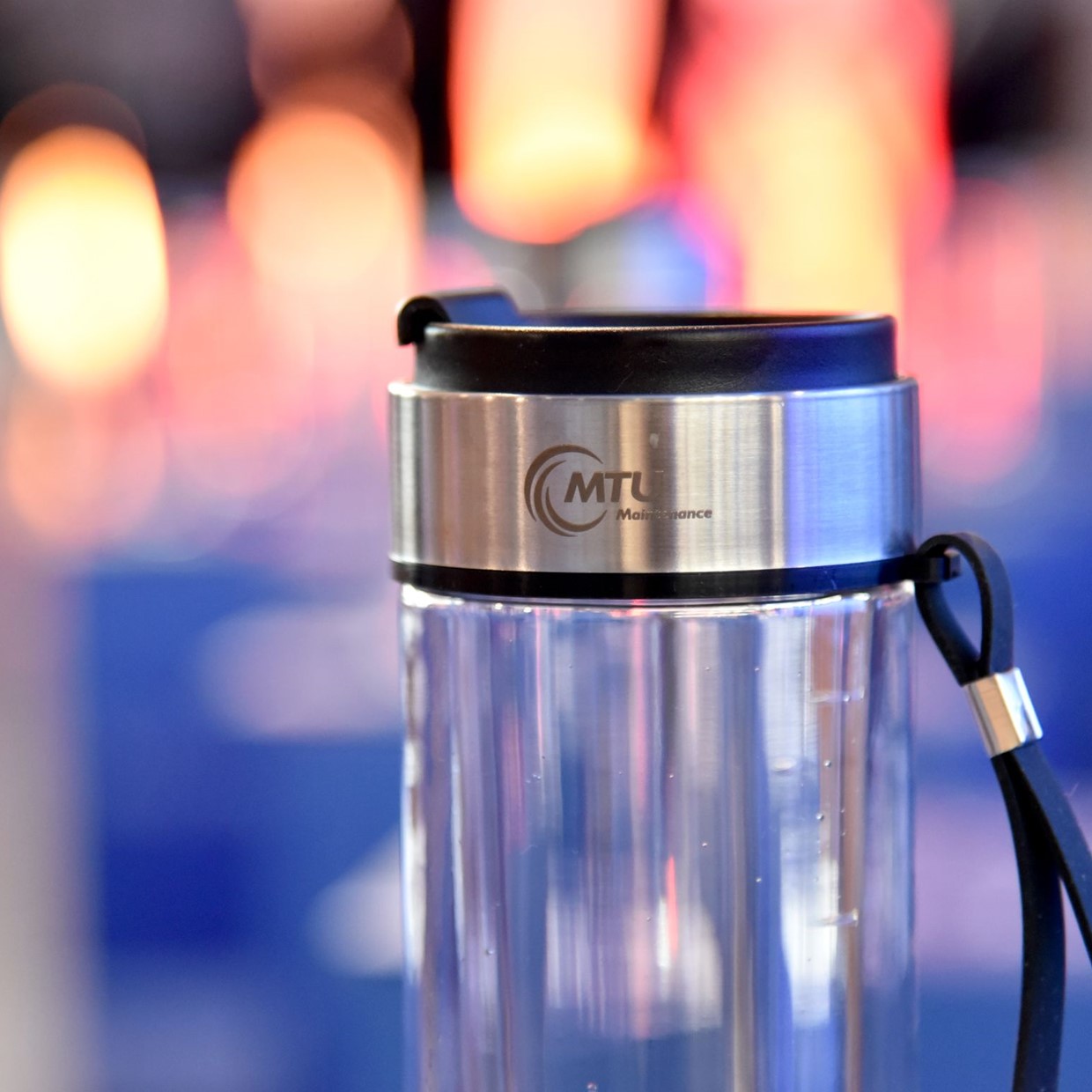 We have abolished paper cups at all our German sites and replaced them with returnable or deposit cups.
This means we avoid using 300,000 disposable cups per year at our Munich site alone.
We achieve greater material efficiency in the production of new parts by using additive processes such as 3D printing of metals. This manufacturing technology enables the rapid 3D production of highly complex components and allows for more freedom in designing them. Components are laser-melted directly from a powder bed according to CAD data—with just 5-10% of the powder ending up as excess material that cannot be used. This significantly reduces the amount of resources used. MTU is steadily building up this area after founding an in-house Center of Excellence for it in 2018.

Harmless materials: REACh regulation
Wherever possible, we avoid using materials that are hazardous to the environment or to health in our manufacturing processes and products. According to the European REACh (Registration, Evaluation, Authorisation and Restriction of Chemicals) regulation, certain substances of very high concern (SVHCs) containing chromium(VI) are subject to authorization. MTU implements all provisions of the EU regulation for protecting employees and the environment. We use the REACh-listed material chromium trioxide for wear and corrosion protection. In 2018 the European Chemicals Agency ECHA authorized its continued use in our processes until 2029 on the basis of the extremely safe workplace standards in our electroplating activities. At the same time, we are pushing ahead with the long-term elimination of SVHCs that require authorization. Two technology projects are currently underway at MTU with which we are looking for chromic acid/chromium(VI) substitutes. Initial results are available for one project. We oblige our suppliers to comply with the EU's legal requirements (registration, authorization, etc.) via the General Terms and Conditions of Purchase if they use REACh substances in their auxiliary or operating materials.


Our material consumption
The consumption of production materials (alloys and spray powder) amounted to 3,756 metric tons in the past financial year, while the quantity of consumables and supplies was 8,328 metric tons.
Material consumption (in t) GRI 301-1

2018

2017

2016

Total

12,084

9,792

10,596

Production material

3,756

2,519

2,161

Consumables and supplies

8,328

7,273

8,435
Our products require the use of materials that are classified as conflict minerals due to their possible origin in Central Africa and can be problematic with regard to human rights violations. Rather than procuring these mineral raw materials directly, we have implemented appropriate processes in our supplier management in order to comply with our duty of care with regard to human rights. → There is more information on this under human rights

In 2018, we implemented new green office solutions as part of the Zero mission at our Munich site. This includes, for example, increasing its procurement of more sustainable office supplies. MTU was even awarded first place by its supplier Lyreco for sustainable customer ordering behavior. Further Zero measures are to follow in 2019.


Waste management
MTU practices sustainable waste management with the safe disposal of waste sorted according to waste type and recycling process. Our chief priority is to try to avoid waste in the first place. Leftover materials are reused, while waste is used either for its materials or as energy; if recycling is not possible, waste is disposed of properly. In this way, we seek to minimize material consumption and waste disposal volumes. As a result, we achieve high rates of recycling. MTU has abolished disposable beverage cups at all its German sites and replaced them with returnable or deposit cups for employees. This means we avoid using 300,000 paper cups per year in Munich alone.
Waste footprint (in t) GRI 306-2

2018

2017

2016

Total waste

8,010

7,100

5,660

Recycled

7,060

6,210

5,010

Disposed of

950

890

650

Hazardous waste

3,290

3,010

1,520

Recycled

2,440

2,210

910

Disposed of

850

800

610
Total waste generation increased year on year in 2018 (+13.8%). Measured against that total, the MTU Group achieved an overall recycling rate of 88.1% (excluding construction waste), which is an improvement on the previous year (2017: 87.5%). The amount of waste produced and recycling routes are dependent on production capacity utilization and on building activities. The share of hazardous waste in the reporting period was 41.1%. Construction waste amounted to 546 metric tons and is due to various construction activities as we expand our sites. In 2018 as in 2017, no soil contamination was found at MTU sites that resulted from hazardous materials or pollutants.

---