Environmental protection in production
Emissions
We want to continuously reduce the greenhouse gas emissions and airborne pollutants resulting from development, manufacturing and maintenance work in our plants as a contribution to global climate protection and local air quality. We have already made progress with a number of measures.

---
The use of energy for manufacturing and maintenance in our plants results in emissions of greenhouse gases and airborne pollutants, which contribute to climate change. Additional greenhouse gas emissions occur in the upstream and downstream value chain. The greatest proportion of emissions with an effect on the climate occurs when our products are used. This is why CO2 and pollutant emissions from our products are of greater relevance to us and form the focus of our sustainability strategy. For a detailed description of how we have used a technology agenda to set ourselves ambitious goals for eco-efficient products, see the section on product stewardship. → Product stewardship & supply chain

We continuously assess airborne emissions during manufacturing and maintenance at our plants according to the recognized international Greenhouse Gas (GHG) Protocol. Our aim is to reduce them permanently. Of all the greenhouse gases that the Kyoto Protocol lists as having an impact on the climate—such as carbon dioxide (CO2), methane (CH4), nitrous oxide (N2O), hydrofluorocarbons (HFC), perfluorocarbons (PFC) and sulfur hexafluoride (SF6)—only the CO2 emissions are relevant for MTU. Our carbon footprint is made up of direct greenhouse gas emissions (Scope 1) from sources owned by the company and of indirect greenhouse gas emissions (Scope 2) that come from the consumption of bought-in electricity and district heating. CO2 emissions from business trips and transports in the external logistics chain fall under Scope 3.

Our contribution to the SDGs
By reducing greenhouse gases, we can contribute to the Sustainable Development Goal 13 on "Climate action" and live up to our responsibility as a manufacturing company in the face of global challenges such as climate change.
Climate action
→ Learn more about our contribution to the Sustainable Development Goals (SDGs)
CO2 emissions
In 2018, MTU emitted a total of 67,500 metric tons (2017: 75,000 metric tons) of CO2. The CO2 emissions caused by us have decreased by 12.8% over the past three years (2016–2018), with reductions achieved for both Scope 1 and Scope 2. Natural gas accounted for the lion's share of Scope 1 CO emissions (24.6% of total emissions), and aircraft fuel—kerosene—accounted for 23.1% of all CO2 emissions. Around half of all our CO2 emissions (51.1%) are caused by electricity, the main energy source (Scope 2 / purchased externally). Our electricity and natural gas requirements are dependent on production volume; our kerosene requirement on the type and duration of test runs.

CO2 emissions (in t) Scope 1 und 2 GRI 305-1, 305-2

2018

2017

2016

Total

67,500

75,000

77,600

Scope 1

32,400

33,300

36,800

Scope 2

35,100

41,700

40,800
Last year, our capital expenditure on property, plant and equipment and intangible assets amounted to a total of EUR 5.2 million. The goal of this investment is to reduce CO2 emissions caused by our operating activities. The Clean Air Industrial Site (CLAIR-IS) program operates at MTU's headquarters in Munich. With the help of this program, we want to reduce the CO2 emissions at the company's largest plant by 25% by 2020 (baseline year: 1990). In total, we have already saved some 435,000 metric tons of CO2.
435,000
metric tons of CO2 saved
By 2020, we want to reduce
CO2 emissions at our Munich
site by 25%. We have already
saved almost half a million
metric tons.
Examples of annual CO2 savings
Using well water for cooling purposes: some 2,600 metric tons

Turning machines off instead of putting them on standby: 340 metric tons

Operating BHKW 2.0 cogeneration plant using biomethane: 7,500 metric tons
Our Munich site is a member of the Munich Business Climate Pact (Klimapakt Münchner Wirtschaft), the first phase of which brought together 15 major Munich companies committed to reducing CO2 by a total of 40,000 metric tons during its three-year term. MTU exceeded its share of 5,500 metric tons and in fact saved 7,000 metric tons thanks to its modernized cogeneration plant. In addition, the Zero mission has launched various actions to minimize consumption and emissions.
To make our company's environmental impact still more transparent, we take part in the annual assessment by the international non-profit organization CDP.


Electromobility in MTU transport
We also extend our climate protection efforts to cover our transport and logistics chain. Measures include optimizing routes for in-plant transport and using vehicles with better environmental performance or electric motors to reduce fleet consumption. We reduce CO2 emissions by, for example, setting an upper emission limit for company vehicles or by using electric cars in our own vehicle fleet. A total of four electric cars and two electric delivery vehicles are currently in use. We are gradually expanding electromobility. We have installed electric charge spots at our Munich and Hannover sites.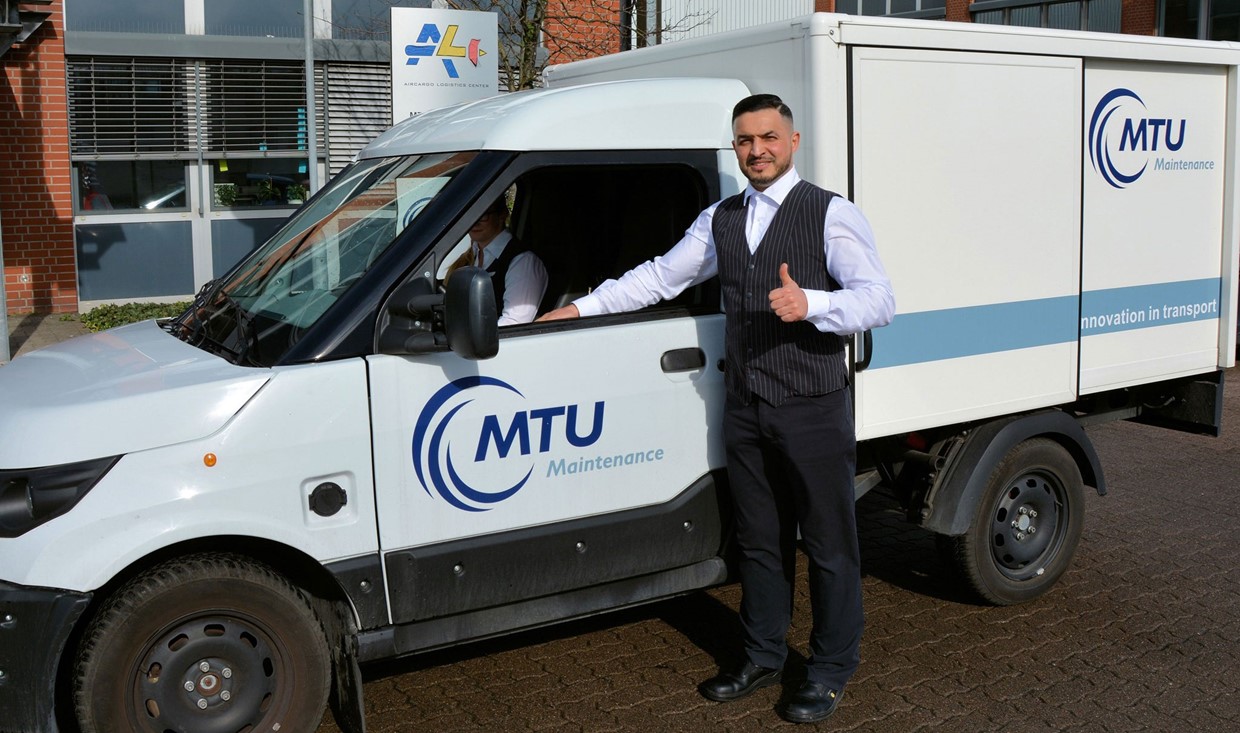 Furthermore, MTU promotes sustainable commuting practices among its workforce, for example through a special discounted "job ticket" for the local public transportation network. In the spirit of "green travel," the company is aiming to make business trips more environmentally friendly and has created new travel booking options such as carpooling.

Emissions from the transport and logistics chain (excluding company vehicles owned by MTU) fall under Scope 3, for which we currently have data covering only Germany and Canada. In total, these CO2 emissions amounted to 9,230 CO2 equivalents/t, which means they are 17.1% lower over the three-year period (2016–2018).
CO2 emissions (in equivalents/t) Scope 3 GRI 305-3

2018

2017

2016

Total

9,230

9,470

11,140

Train travel

10

10

40

Air travel

9,010

9,240

10,930

Cars (rental cars)

210

220

170
Airborne emissions
The energy sources we use generate other airborne emissions aside from CO2 emissions. The use of kerosene, natural gas, electricity and district heating from fossil fuels causes the emission of carbon monoxide, nitrogen oxides, sulfur dioxide and dust. We also calculate these emissions and want to reduce them. For example, generation of electricity and heat in the new BHKW 2.0 cogeneration plant cuts emissions of nitrogen oxides by 80% and of carbon monoxide by 66% compared to its predecessor. As with CO2 emissions, we are recording a decline in air pollutant emissions. Absolute emissions in 2018 totaled 239 metric tons, mainly nitrogen oxides (158 metric tons).
Airborne emissions (in t) Scope 1 und 2 GRI 305-7

2018

2017

2016

Total

239

248

269

Carbon monoxide (CO)

26

31

27

Nitrogen oxide (NO X )

158

159

185

Sulfur dioxide (SO 2 )

51

53

53

Fine particles (dust)

4

5

4
Outlook
The Munich Business Climate Pact is to be continued from 2019 to 2021, and MTU will be participating once again. In addition, the initiative was recognized by the German government as a particularly innovative energy efficiency network at the Hannover Messe 2019.
---