Employees and society
Employee development
Our success depends on the expertise of our workforce. Having the right employees with the right skills on board secures our continuous growth course. That is why we promote lifelong learning for all employees in important phases of their professional lives. In addition, we are intensively developing our leadership culture in order to remain innovative and fit for the future in times of social change.
---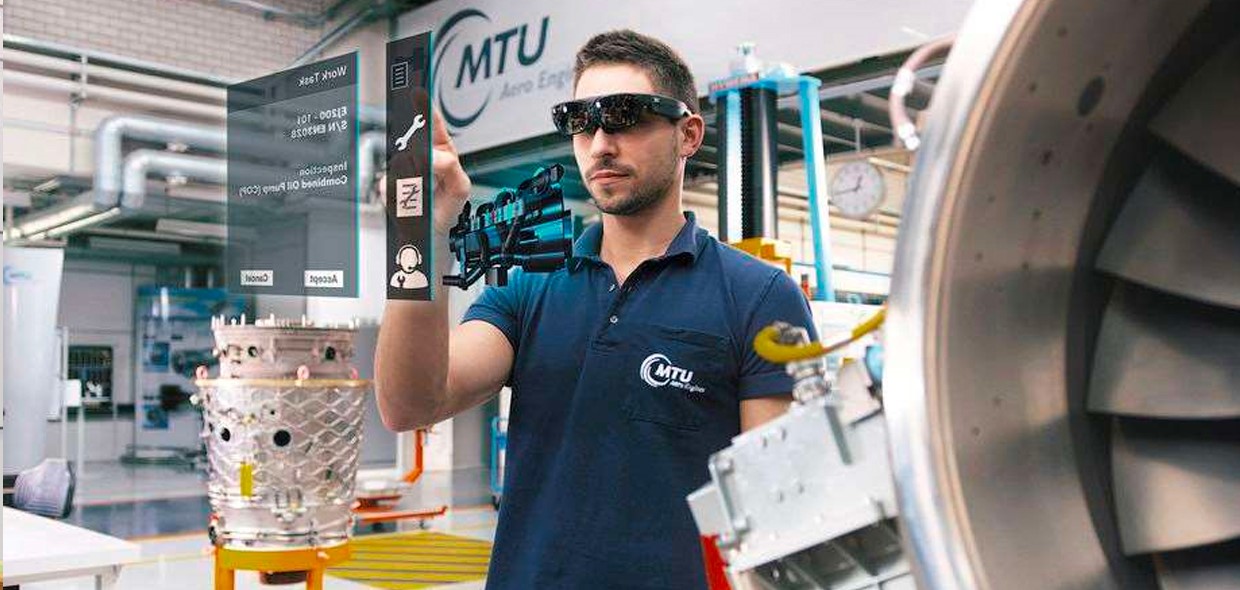 Qualified and motivated employees are indispensable for driving innovation and ensuring competitiveness in the technically demanding aviation industry. In many areas in which we are active, aviation authorities prescribe additional qualification measures, such as mandatory training on human factors (failure through human error) or for employees with certification authorizations under aviation legislation. The opportunities for personal and professional development of our employees also make us an attractive employer for new minds and for our talented individuals. In addition to industry-specific vocational training and dual courses of study aimed at building up knowledge over the long term, MTU supports and promotes employee development—this is a key principle of corporate social responsibility as defined in the company's Code of Conduct. Promoting vocational training opportunities and avenues for personal development for employees and managers is also enshrined in the MTU Principles and Group-wide HR strategy. The head of human resources is responsible for the training and development of employees Group-wide. The Executive Board is kept informed about the training indicators through the annual education and training report, and occasionally discusses selected important training initiatives.

Our Group-wide works agreement in Germany guarantees access to training for all employees and requires management to conduct an interview with each employee once a year to discuss their training and development. The directive applies to 84% of the total workforce. International sites have their own regulations; at MTU Aero Engines North America, for example, each employee receives an annual development plan. At MTU's sites in Germany, the works council is also involved in employee training in accordance with the German Works Constitution Act (Betriebsverfassungsgesetz) and has a say in the annual training and development program. We establish the training requirements of the workforce in a standard process (training interview or divisional / company-level interviews). Employees evaluate training courses they have completed in a personal meeting with their manager, or in some cases via a feedback form. A training history documents completed training and development courses. Training officers can be consulted at any time for advice on needs-focused training.
Employee training GRI 404-1

2018

2017

2016

Training days (total)

29,468

21,971

22,324

Training days per employee

3.0

2.3

2.7

Proportion of women in training courses

 14.3%

 13.6%

 15.0%

Investment in training (EUR million)

5.1

3.9

3.7
We invested a total of EUR 5.1 million in employee training in the past financial year—considerably more than in the two previous years. This increase is mainly due to expansion at our sites and the recruitment of new employees. The total number of training days was 29,468, which was also significantly higher than in the previous year (2017: 21,971). On average, our employees each completed three days of training last year. At 14.3%, the proportion of women in training courses was pretty much in line with the Group-wide proportion of women of 14.4%.
Our contribution to the SDGs
We actively support SDG 4 on "Quality education," one of the Sustainable Development Goals set out in the United Nations' 2030 Agenda. At this time of digital change, we are giving our employees the chance to improve their sustainable skills. High-quality employee development plays an important part in helping us make the most of the opportunities that digitalization presents to secure our long-term position as a technology leader. In addition, we contribute to the SDG by training young people in various professions.
Quality education
→ Learn more about our contribution to the Sustainable Development Goals (SDGs)
We act according to new leadership values
A special focus in employee development is on anchoring sustainable leadership skills in management. These skills will enable managers to work with their employees to shape MTU's future successfully and actively. This is also reflected in our annual corporate objectives. Our objective for 2018 was to create more efficient leadership through clear expectations, open feedback and responsible decision-making. The Group-wide Business Challenge training initiative is an important instrument for strengthening leadership. In the reporting year, the focus was on further developing our leadership culture. With "Business Challenge: Leadership Values," we are currently implementing common leadership values for sustainable leadership behavior and an innovative corporate culture. To complement existing MTU skills, the Executive Board and managers have jointly developed the "We transform, We empower, We create trust" leadership values across divisions and sites. We have been implementing our leadership values in our organizational units in Germany since fall 2018, with the international sites to follow in 2019. The International Leadership Program (ILP) will be launched again in 2019 to further promote a common understanding of leadership in a global corporate environment.


Management training
In addition to Business Challenge, MTU offers a number of other programs that we use to develop our managers and support them both professionally and personally. These include:
Development centers

Management transition coaching

Building on Talent / International Building on Talent

International Leadership Program

Future Dialog discussions as part of the RESPONSE program, Hannover

Management development program, Ludwigsfelde

Management Growth, Rzeszów
We support talented people
Given the aging society in Germany, it is important for MTU to prepare to fill a large number of skilled and managerial positions over the coming decade. We systematically identify people at MTU with the potential to assume key roles and support them through personalized development programs. Our primary focus is on succession planning for those positions that are critical to our company's success. There is a special trainee program for particularly promising graduates in areas in which too few potential managers work. A know-how buddy system and the exchange of expertise with the aid of knowledge maps help the company preserve valuable expertise and experience. At MTU Aero Engines North America, our U.S. engineering facility, we have a program for entry-level engineering graduates that rotates them through a variety of departments focusing on different areas of engineering. We also face the challenge here of determining how to retain talented employees and help them grow.
The next generation is particularly important to us
Training is a central component of securing promising young employees. We offer young people in Germany a solid grounding in ten different trades, while our dual courses of study still offer different specializations. We pursue a holistic approach that goes beyond specialist topics to also cover social and ecological aspects, for instance through health and environment days or through corporate social responsibility in local communities. Apprentices have made up a constant proportion of MTU's workforce for many years; last year they accounted for 3.4% of the total workforce (3.8% in 2017). MTU employed 279 apprentices in Germany at the end of the year (2017: 287). In addition, we offer practical courses of study in collaboration with selected vocational academies.
In an effort to attract potential recruits early on, numerous MTU sites take part in educational initiatives including:
Training Night

IdeenExpo science exhibition in Hannover

Nature and Technology Days

Teachers in Industry

Girls' Day

Research Camp for Girls

EUROTEC

Jugend forscht contest for young researchers
---