2019 Sustainability Report
Coronavirus pandemic
MTU vs.virus
The coronavirus pandemic presents us all with unexpected challenges, affecting the way people and companies all over the world live and work. In times like these, we bear responsibility as a company for the protection and health of our employees, but we also want to show our solidarity with society and do what we can to help. Here is an overview of the measures we are taking and the activities we have launched.
---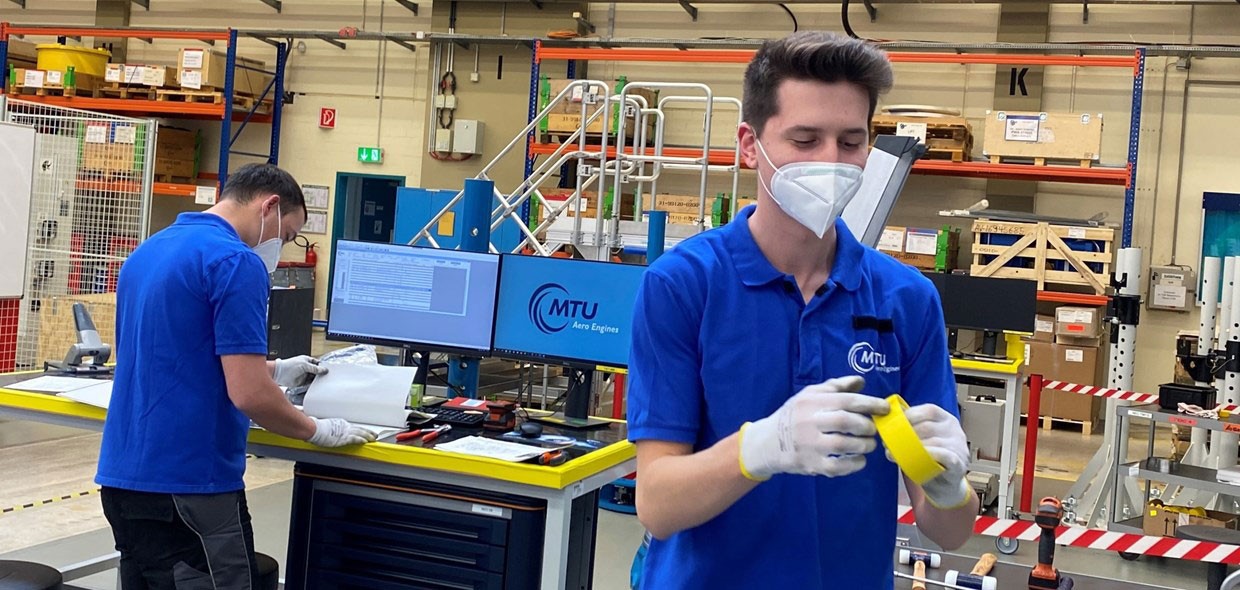 The following provides a summary of all the information available to us up to the editorial deadline on June 12, 2020 relating to our ongoing measures and activities in response to the coronavirus pandemic. The goal of all measures and activities is to get through the crisis together with determination, protect employees and visitors at our locations from infection as best we can, and preserve MTU's economic strength and financial assets.
We protect our employees
We have put extensive measures in place across all sites to protect our employees' health during the coronavirus pandemic. These technical and organizational measures apply both to the actual workstations and to daily workflow processes. We want to offer our employees the best possible protection against the coronavirus and minimize the risk of infection as far as possible. The aim is to prevent infection in day-to-day working life. To this end, we have drawn up guidelines that are binding for all employees. We increasingly rely on mobile working, virtual conferences and alternating presence in the office to limit the number of employees present at one time and reduce the risk of infection. Hygiene measures such as increased cleaning of contact surfaces or the distribution of disinfectant on the premises are intended to help prevent the spread of the virus. We have issued distancing and hygiene regulations that must be strictly adhered to during any unavoidable meetings of small groups requiring physical attendance as well as in communal areas and canteens. The wearing of protective masks is mandatory wherever a minimum distance of two meters cannot be maintained, for example in production. MTU provides masks for this purpose. If necessary, we take workplace-related measures or individual measures to protect employees who belong to risk groups.
---
---
We are running a comprehensive communication campaign to keep employees continuously up to speed with important changes and processes and to sensitize them to the risks and dangers of the coronavirus. MTU's crisis committee, on which various functions of the company are represented, has initiated company-wide measures to protect employees. The committee also ensured that all the German sites were coordinating with one another on a daily basis.
How we are responding to the economic crisis
We want to ensure that MTU emerges from the crisis at full strength and with its capacity for innovation fully intact. In view of the pandemic, the company temporarily suspended most of its activities at several European sites in April 2020. Besides being our response to the beginnings of an interruption in the supply of materials, this coordinated shutdown of our operations was a way for us to protect the workforce and help contain the spread of the pandemic. We did this in close cooperation with our customers and partners. We made sure that we were there for all stakeholders during this time and ensured our availability to handle important concerns. Wherever operations had to be maintained, appropriate precautions were taken to protect employees. The shutdown affected our production sites in Munich and in Rzeszów, Poland, as well as our maintenance operations in Hannover and Ludwigsfelde near Berlin. This enabled us to weather the first phase of the crisis calmly and collectedly and with great cohesion.
Following the suspension of operations, we resumed with short-time working arrangements at our German sites. The organizational and technical measures we have adopted to prevent coronavirus infections mean we continue to ensure high standards of protection for our employees' health on-site. To overcome the crisis, MTU has taken various financial measures to safeguard the company's liquidity. These include, for example, the proposal by the Executive Board and the Supervisory Board to the Annual General Meeting to carry forward the net profit for financial year 2019 into this year.
MTU is continuing to closely monitor the highly dynamic situation surrounding the coronavirus and is taking the necessary operational and financial precautions in good time to minimize any negative economic impact on the company.
We show solidarity
Because short-time working can lead to cases of particular hardship among colleagues, MTU has set up a solidarity relief fund worth more than EUR 4 million. The Executive Board and well over 90% of senior management have waived a significant slice of their variable remuneration for the past financial year. This solidarity fund enables us to help ensure that we all share the burden.
---
---
We have also been directly involved in fighting the pandemic through support and donations. In Munich, we provided more than 50,000 protective masks for use in Bavarian emergency facilities and hospitals. This was possible because MTU always keeps protective masks in stock, further masks were due to arrive and we had sufficient equipment available for emergency operations. MTU Maintenance Berlin-Brandenburg donated 10,000 masks to the Brandenburg chapter of the German Red Cross. The masks were mainly put to use in local care facilities. Staff at MTU in Rzeszów took part in a fundraising campaign for the nearby hospital in Lańcut, one of the clinics in Poland providing intensive care for coronavirus patients. Employees and management felt it was important to support first and foremost those people working in hospitals and care settings, who are giving their all.
---
---