Ensuring a high level of protection

Occupational health and safety
At MTU, our employees should have a safe and healthy environment in which to work. This forms a key part of our corporate social responsibility and is fundamental to our corporate success. High occupational safety standards and a company health management system lay the foundation for a capable workforce. We strive to develop and enhance our preventative occupational safety concept and employee health services on an ongoing basis. In 2019, we again achieved a high level of safety that exceeds the industry average by a significant margin.
---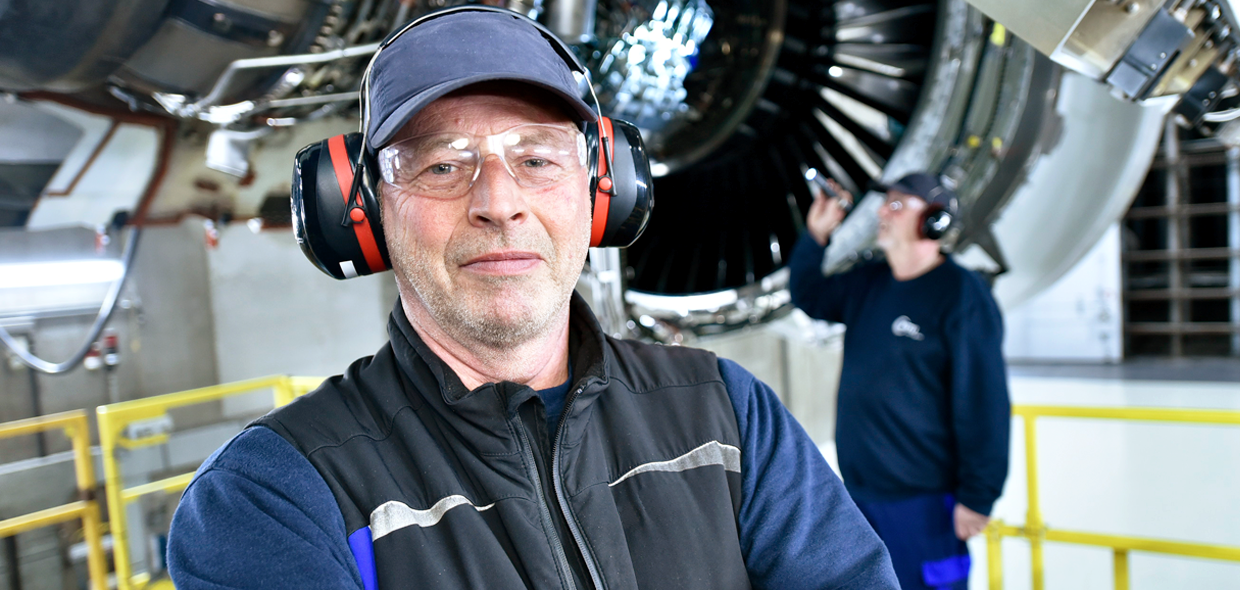 MTU places a great deal of importance on the safety of its employees. Occupational safety and employee health are enshrined as one of the key principles of corporate social responsibility in MTU's Group-wide Code of Conduct. Compliance with national statutory regulations on occupational safety is also embedded in the Code of Conduct as a mandatory minimum standard for all of our international subsidiaries. In addition, we have established an internal standard that lays down parameters, rules and KPI definitions applicable across all locations. A Group report is submitted to the Executive Board each quarter. Our occupational safety approach is not centralized, so all locations are responsible for implementing their own, which enables them to tailor it to their local needs and requirements. At the individual production sites, occupational safety is the responsibility of the site managers; occupational safety officers are appointed at the management level. Local technical departments take action on occupational safety issues on-site and report regularly to their site management. The workforce at the company's production sites in Germany, Poland and Canada is represented in locally organized occupational safety committees, the composition of which includes employee representatives.

Our contribution to the SDGs
A secondary objective of SDG 8 of the UN's 2030 Agenda, "Decent work and economic growth," calls on companies and organizations to support safe working environments for all employees. We consider this SDG to be relevant for MTU because we can help achieve it directly by implementing strict occupational safety standards and ongoing preventative measures.

Decent work and economic growth
→ Learn more about our contribution to the SDGs
Occupational safety forms part of our integrated management system (IMS) policy and is regularly reviewed and improved. At the European production sites, workplace regulations that are mandatory for all employees contain important safety rules pertaining to accident prevention, fire protection and what to do in the event of workplace or commuting accidents. The occupational safety management systems in place at the German sites are certified externally—in accordance with the international Occupational Health and Safety Assessment Series (OHSAS 18001) standard or the new ISO 45001 international standard for occupational health and safety management systems, to which we are already certified → MTU's current certifications. Accordingly, 83.8% of the workspaces comply with an external standard; all workspaces in the company are part of our IMS based on the principle that "safety takes priority in what we do." This includes the workspaces occupied by temporary workers.


accidents per 1,000 employees
That is far above the industry average. At 4.4 per 1,000 employees in 2019, the number of reportable accidents at MTU was significantly below the metalworking industry average of 34 accidents per 1,000 employees.
We strive to prevent health and safety risks to our employees and third parties. To this end, we regularly assess workspaces for any risks and hazards they present for employees. Where necessary, we implement appropriate measures to prevent or at the very least minimize potential stresses. That also applies to workspaces occupied by temporary workers. With the aim of permanently reducing the number of accidents and reaching a level of safety that aspires to prevent any accidents whatsoever, the local occupational safety officers record all accidents according to uniform criteria and investigate them together with the affected employees / temporary workers and their managers. Should the assessment reveal specific aspects pertaining to the cause of accidents, we will take further steps to increase safety precautions. In addition, the company has a system in place to record and evaluate near-misses at all production sites. We strongly encourage the workforce to report unsafe situations. Regular safety training for all employees and temporary workers is mandatory across the Group. We train all employees and temporary workers on health and safety matters specific to working life at MTU when they first start working at the company. In addition, managers receive repeated mandatory training on occupational safety. First-aiders are appointed and obligated to attend a refresher course every two years. The local technical departments carry out ongoing prevention work at the company's sites through training sessions and information campaigns.

We achieve a high level of protection
High standards in occupational safety across the Group were again one of our annual corporate objectives in 2019. In addition, accident-free and low-stress workspaces form part of our IMS policy. In addition, each year we define maximum tolerance thresholds at each location for category 4 reportable workplace accidents (accidents that entail more than three days lost), ranging from 0 to 10. Regrettably, we were not able to meet this threshold at two production sites. With 47 reportable workplace accidents entailing more than three days lost across the Group, 2019 saw an increase over the previous year's figure of 42. All production sites except for the one in Poland reported an increased number of accidents in the past financial year. Here, it should be noted that we employed more people across the Group than before. As in the previous year, the Group-wide accident rate was low in 2019 at 4.4 reportable workplace accidents per 1,000 employees (2018: 4.3). We have thus achieved a high level of safety compared to the average in the German metalworking industry (Wood and Metal Trade Association—BG Holz und Metall, data for 2018) of 34 accidents per 1,000 employees. As in previous years, there were no fatal accidents in 2019. We also record and analyze accidents involving temporary workers on our premises. Accidents among this group entailing more than three days lost dropped from 7 (2018) to 4 (2019). The accident rate (per thousand employees) has reduced from 5.5 to 3.6 as a result.

Occupational safety GRI 403-9

2019

2018

2017

Reportable workplace accidents (more than three days lost)

47

42

33

Non-reportable workplace accidents (1–3 days lost)

32

37

35

Non-reportable workplace accidents (requiring medical attention)

21

12

20

Fatal workplace accidents

0

0

0

Days lost as a result of reportable accident

1,226

922

486

Accident rate per 1,000 employees

4.4

4.3

3.7

Workplace accidents temporary workers

4

7

14

Fatal workplace accidents temporary workers

0

0

0
The marked increase in the number of days lost due to accidents is attributable to individual events involving particularly long absences. The total number of reportable workplace accidents in the Group is low. Analyses of accidents in 2019 show that the company has a very high level of technical and organizational safety with regard to its machines and equipment; accordingly, the accidents that arise tend to be related to behavior and less so to the operation of machines and equipment.

We continue developing our safety culture
We derive proactive measures from regular risk assessments, routine inspections of workstations, and audits in production and administration. These measures continue to focus on promoting safety-conscious working so as to continuously refine the safety culture. They include, for example, regular awareness campaigns at the individual sites: in Munich, for example, on forklift traffic on the premises, and in Hannover on the use of personal protective equipment. In 2019, we also placed a stronger focus on workplace ergonomics with better equipment and on further lowering employees' exposure to dust.
Outlook
As a result of the greater number of days lost at the Munich site, we plan to launch a new occupational safety campaign to raise awareness of safe behavior in the workplace among production employees. In Hannover, we have started individual coaching sessions for shop foremen to support them in promoting safety-conscious behavior among their employees. We are continuing these measures in the offices.
Moreover, we are currently revising our reporting of occupational safety incidents to the Executive Board in order to ensure that this topic gets even greater attention at the management level. We will also standardize our accident reporting for temporary workers across all sites.
Health management
Health is a key success factor when it comes to overcoming corporate challenges. The only way for MTU to retain its strong, competitive position is with healthy—and hence motivated and high-performing—employees. We also want to integrate health more strongly into our processes and structures as part of our company health management (BGM) system, especially considering demographic change and the digitalized world of work. For years now, ergonomics management in particular has been growing in importance at our German locations. Accordingly, we are taking a closer look at workstations in production and implementing ergonomic measures in Industry 4.0 processes

In Germany, we again surveyed our employees about the services offered under our BGM system. The feedback shows that our "People in Focus" information campaign in 2018 and 2019 raised awareness of our employee health services. In addition, compared to previous surveys, more employees stated that they had made use of the services (47% of the 2,500 respondents).
In Germany, the health rate for the reporting period remained on a comparable level with the previous year at 94.4%..
Health rate

2019

2018

2017

Germany

 94.4%

 94.6%

 94.6%
Health services at the German sites cover occupational health and—at sites with a company doctor—emergency medicine and are responsible for general preventive measures. These services are available to all employees and temporary workers. Counseling services offer employees and temporary workers support with performance and work-related issues as well as mental health issues. In addition, all of our German locations offer supplementary in-house and external services. This includes in-house case managers, who provide advice for employees returning to work following a long absence, as a result of sickness or an accident for instance, to ensure that they get the best possible support with their reintegration. External providers offer a comprehensive support package for family-related matters. Additional benefits offered by MTU include fitness centers, which are run either in-house or by external partners, as well as physiotherapy, ergonomics training and on-site vibration training.

Our employees outside of Germany can also take advantage of permanent health services. Employees in Vancouver, Canada have access to a free Employee Assistance Program. It offers a wide variety of support services on topics such as financial planning for healthcare costs, mental health, and personal or family counselling, as well as advice on equipping workspaces in a way that promotes good health. MTU Aero Engines North America offers its employees health and welfare benefits, including continued wages or salary for absences caused by illness or accidents as well as workplace reintegration. At our site in Rzeszów (Poland), the basic medical services on offer include a doctor who is on-site once a week, psychological support as needed, and sports club membership.
---