Strengthening knowledge economies and local communities
Corporate social responsibility
In all that we do to contribute to social development, our focus is on research and education. As we drive aviation technology forward, we rely on a new generation of skilled employees and an innovative business environment. In addition, we support social projects that have a local impact close to our locations.
---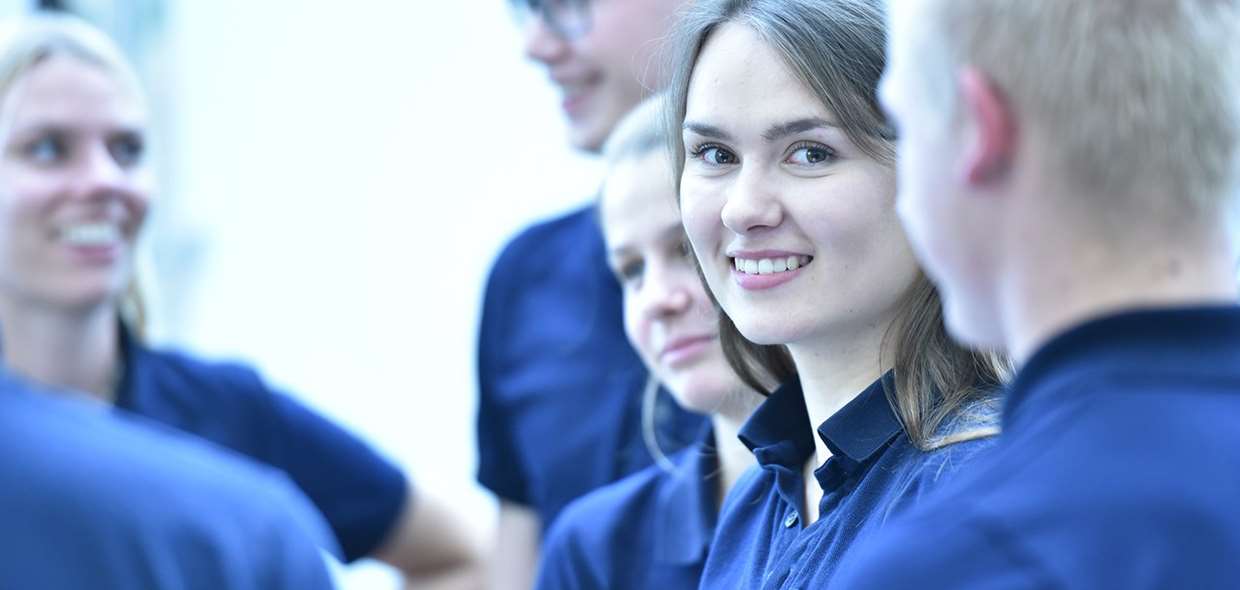 Corporate social responsibility is an integral part of the MTU Principles, one of which states: "MTU takes its responsibility for the environment and society seriously." At many of our sites, we are a major local employer offering a wide variety of attractive jobs in a high-tech environment. This has a positive effect on the local employment situation, including in less economically successful regions such as Brandenburg, Germany. We also offer apprenticeships in various trades in Germany. We generally take a long-term approach to employment. In addition to training and developing our employees, we continue to invest in the expansion of our plants, as we are currently doing in locations such as Munich and Hannover; in Serbia, we are preparing to build a new repair shop. These investments strengthen the local economy and job market, and in turn have a positive effect on social aspects such as infrastructure and prosperity. We contribute to society through income tax, too. → How we add value through our economic output
Our contribution to SDGs 4, 5 and 17
Our commitment to social responsibility moves us closer to attaining several Sustainable Development Goals (SDGs). We see this as a contribution to achieving SDG 4 on "Quality education"; SDG 5 on "Gender equality"; and SDG 17 on "Partnerships for the goals." With our educational initiatives, we are engaged in increasing the number of girls and women who pursue scientific and technical careers and promoting equality of opportunity. We create equal access to high-quality education irrespective of gender or other characteristics. Through intensive collaboration with universities and research institutions, we enter into partnerships aimed at achieving common goals of sustainable development. We support major sustainability initiatives such as the UN Global Compact and the Paris Agreement.
Quality education
Gender equality
Partnerships for the goals
→ Learn more about our contribution to the SDGs of the UN's 2030 Agenda

Our corporate social responsibility
As a company that engages heavily in research, our concept of corporate citizenship revolves around science and engineering initiatives. We seek out interaction and collaboration with the world of science and research and foster dialogue with young people and new talent.
apprentices
New cohort of aviation experts: We had just over 300 apprentices on board with us at MTU last year—more than the previous year. They complete a two-to-three-year apprenticeship based on Germany's dual-track system or an 18-month on-the-job training course at our site in Canada.
We offer young people a solid grounding in various trades. In 2020, we had a total of 324 apprentices (2019: 293), which corresponds to 3.1% of our total workforce (2019: 2.7%). In Germany, where most of our apprenticeships take place, the share was 3.6%. Our integrated approach combines technical qualifications with methodological and social skills. It involves our apprentices in all aspects of the company, including health management, environmental protection, social values and our no-blame culture. At our planned new site in Serbia, we want to establish a local training program for aviation industry specialists based on Germany's dual-track system. MTU also collaborates with German vocational academies in Stuttgart, Ravensburg and Berlin as well as with Baden-Wuerttemberg Cooperative State University to offer practical courses of study in business administration, information technology, mechanical engineering and business engineering. In addition, we participate in numerous educational projects and initiatives for children and young people (→ Diversity and inclusion, → Employee development).

Strengthening knowledge economies: Our technology network
Collaborating with universities and research institutions is a mainstay of our research and development work and a key part of fulfilling our responsibility to society. We have built strategic alliances with research partners to foster links between universities and industry and to safeguard our capacity for innovation.
We run six scientific centers of competence at different universities across Germany, each with its own research focus. The German Aerospace Center (DLR) is building a test and simulation center for gas turbines in Augsburg, of which MTU will make intensive use. We want to use this center to validate numerical simulation processes (virtual engine) with experimental procedures in test cells in such a way that it is possible to draw up new designs in the future with considerably less testing. In addition, we co-founded Bauhaus Luftfahrt, a visionary think tank to address longer-term topics that pursues novel, unconventional, holistic and interdisciplinary research, bringing industry and science together under one roof. Among other things, the Bauhaus researchers devise visionary aircraft concepts and investigate ecological aspects and socio-political drivers in aviation. Collaboration with various Fraunhofer Institutes in Germany is a key area of activity in our cooperative ventures—particularly when it comes to production and materials technologies. With its broad spectrum of expertise, the Fraunhofer-Gesellschaft works on industry-related research contracts on our behalf.
Getting the next generation passionate about science and technology
We run a series of sponsorship schemes at the University of Stuttgart and at DLR that support young researchers for a number of years after they finish their degrees, and we provide financial backing for a Deutschlandstipendium, or "Germany Scholarship," at Leibniz Universität Hannover and Technische Universität Braunschweig. Together with Technische Universität Braunschweig, we operate what is known as a maintenance laboratory to enable students to experience engine maintenance at our premises as part of their master's studies. In cooperation with the Business4School project, an initiative that aims to foster business skills in schoolchildren, HR and Controlling managers at MTU Maintenance Hannover give insights into their work in lectures at local schools. Our international locations also work together with selected universities and colleges in their regions: MTU Aero Engines Polska has established an alliance with the Lezajsk Technical School and the University of Science and Technology (AGH) in Kraków, and MTU Aero Engines North America has a partnership with the CREC Aerospace Academy. Our engineering subsidiary in the United States also financially supports the Eurotech scholarship program at the University of Connecticut.
Our long-term programs include a foundation through which we support highly talented young women studying scientific and technical disciplines. As well as providing financial grants, the MTU Studien-Stiftung offers personal advice and mentoring to help students get started with their careers.
MTU research experts give regular presentations and guest lectures at universities. We provide a significant proportion of the lectures for the engine technology course at the Brandenburg University of Technology (BTU) Cottbus. MTU has endowed a chair for aircraft engine structural mechanics at the University of Stuttgart as well. We also give national and international university groups the opportunity to gain insights into how an industrial company works (in 2020 this was not possible owing to the pandemic). We offer trainee programs, dual vocational training, work placements for high school students, work experience for students and opportunities for writing bachelor's/master's/doctoral theses at our European sites. These are key factors on the labor market. In 2020, there were 228 students working with us as part of their undergraduate or postgraduate program, on work experience or as holiday staff.
Each year, MTU confers the Wolfgang Heilmann Science Award for outstanding achievements by talented young students performing research in the field of aircraft engines at the Karlsruhe Institute of Technology. In the reporting year, one student was singled out for his master's thesis, which he completed at MTU. The talented researcher has since joined our ranks as a full-time employee. We are also an industry sponsor of a prestigious German award for aerospace journalism that is awarded annually to non-specialist journalists for outstanding articles on aerospace trends and issues.
Jugend forscht – competition for talented youngsters with green ideas and MTU backing
For several years now, MTU Maintenance Hannover has supported the Jugend forscht initiative in Hannover through its involvement as a partner. The regional contest is designed to get young people interested in STEM subjects. "You can do it!" was the motto for the 2020 edition. Ahead of the award ceremony, the 140 budding scientists who took part paid a visit to our site in February. We are glad of this additional means of promoting sustainability through education, as many of the projects in the competition for young talent were about climate action and environmental protection.
Our commitment in action
We support various social institutions. These are generally charitable organizations, preferably with a social focus, to which we provide assistance in the form of financial or in-kind donations. A key factor in selecting recipients is a local/regional connection or a thematic link to our business. We prioritize support for specific projects over general institutional funding. The MTU subsidiaries concerned select these projects and participate in them on their own initiative, following careful research and consideration. Internal guidelines govern the granting of donations and sponsorship, and a centrally managed clearance and approval process ensures that the rules are adhered to.
Donations and sponsorship in 2020 (distribution in %)
In the reporting year, we supported around 60 projects, institutions or organizations. Together with regional partners, we also achieved local goals that we could not have met on our own. For example, MTU is committed to the Munich Business Climate Pact and makes a local contribution to sustainability through carsharing services. During the pandemic, we also helped out the TurBienchen e.V. daycare center, a parent-led initiative situated close to the company gates in Munich, through various measures such as donating new laptops. MTU continuously supports the non-profit association with donations of money and materials.
Moreover, we have also been directly involved in local efforts to fight the pandemic through aid and other donations. In Munich, we provided more than 50,000 protective masks for use in Bavarian emergency facilities and hospitals. MTU Maintenance Berlin-Brandenburg donated 10,000 masks to the Brandenburg chapter of the German Red Cross. The masks were mainly put to use in local care facilities. Our site in Rzeszów, MTU Aero Engines Polska, supported the regional health system in combating the pandemic and handed over donations to the nearby hospital in Łańcut, one of the clinics in Poland providing intensive care for coronavirus patients. Employees and management felt it was important to help first and foremost those people working in hospitals and care settings, who are giving their all.

---
In 2020, the Bavarian network of emergency responders "Helfernetz Bayern" named MTU as a "rescuer-friendly company." The Helfernetz awards this title to companies whose employees volunteer in various relief and emergency response organizations. One of the criteria was the releasing of employees during working hours to go on emergency management missions.
---
Examples of our social responsibility projects in 2020
Luftfahrt ohne Grenzen (Wings of Help) e.V.

Sponsorship for childcare while schools are on vacation

Funding of the TurBienchen e.V. child daycare center initiative, Munich

Off-site deployment of MTU's company fire department and doctor, Munich

Initiative krebskranker Kinder München e.V. (initiative to help children with cancer who are being treated in Munich, along with their families)

Pediatric clinic in München-Schwabing

Dachau Concentration Camp Memorial Site, 75th anniversary of the liberation of the concentration camp

Mukoviszidose Landesverband Berlin-Brandenburg (organization to help people affected by cystic fibrosis in Berlin-Brandenburg region)

Die Arche (The Ark), a project devoted to improving the lives of children in Potsdam

Hospital No. 2 (ultrasound machine for pediatric hematology/oncology and equipment for online teaching of children in the hospital), Rzeszów

Centrum Medycznew Łańcucie, Łańcut
Wide range of activities at our locations
We welcome our employees' voluntary efforts to support good causes. This is covered by an internal company agreement. Our apprentices volunteer in a variety of ways, for example by collecting returnable bottles from the break rooms and donating the deposit, or by clearing nearby streets of litter during a public action day. The action day was cancelled in 2020 due to the coronavirus, but took place again this year. Employees in the United States collected food donations for food banks or money for families in need, and took part in virtual charity runs. In Germany, meanwhile, the company allows staff to undertake projects with the German Federal Agency for Technical Relief or the volunteer fire department during their paid workday, and offers the services of lay justices for labor tribunals and social justice courts and of examiners for the Chamber of Industry and Commerce.
---
Services and tools
---